After the meaty "yakiniku" night, we decided to do grilled seafood.
With
Iga-yaki grill, "Yaki Yaki San"
, we can enjoy table-top grilled seafood dinner with very easy preparation.
Here's how we do our Yaki Yaki San seafood.
First, get the ingredients to cook on "
Yaki Yaki San"
ready. Sashimi grade salmon (sliced and seasoned lightly with salt), jumbo shrimp (tail on), calamari legs, cut asparagus, baby bell peppers, and enoki mushrooms.
Sauce and condiments. Homemade yuzu ponzu with grated daikon, lettuce wrap, sliced scallion, daikon sprouts, garlic, and lemon wedges. Very simple.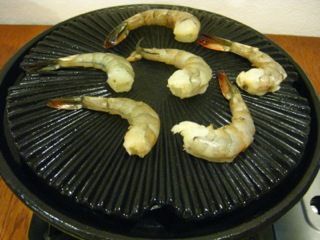 Get "Yaki Yaki San" ready by pre-heating and brushing oil on, and start grilling. Lightly-seasoned jumbo shrimp.
Calamari legs and vegetables.
Salmon sashimi slices are grilled to rare. It's good in a lettuce wrap.
This Iga-yaki grill,
"Yaki Yaki San"
, which is made from ancient clay doesn't release smoke, and it does a nice and calm grilling. I love it so much.
Happy donabe life.