I got inspired by a Chinese steamed chicken recipe with oolong tea leaves. So, I made it in my own way with my
donabe steamer, "Mushi Nabe"
. For this recipe, it's very important to use premium-quality oolong tea leaves, because the chicken not only absorbs wonderful aroma from the tea leaves but also will be eaten with the leaves! I really enjoy this dish, because it's so easy to make, yet the flavors are so complex and deep.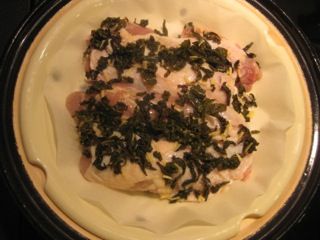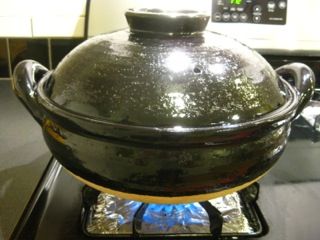 Once the oolong tea leaves are rehydrated and mixed with sake and ginger, they are steamed with chicken.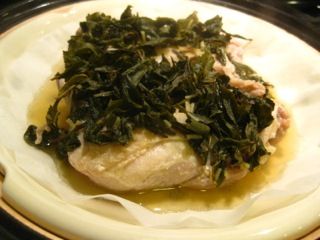 Chicken becomes so aromatic. The cooking juice under the chicken is also very precious, so I use it for the sauce.
Steamed Chicken with Oolong Tea Leaves
Ingredients:
(for 3-4 servings as part of a multi-course meal)
16 oz (450 g) boneless chicken thigh meat
1 tablespoon
shio-koji
(or 1 teaspoon salt)
1 tablespoon high quality oolong tea leaves
1 knob ginger, sliced into fine shreds
2 tablespoons sake
(black vinegar sauce)
2 tablespoons Japanese black vinegar ("kurozu")
2 tablespoons soy sauce
1/2 teaspoon doubanjiang (Chinese hot bean paste)
1 small garlic, grated
1 teaspoon grated ginger
1 teaspoon honey
1/2 tablespoon sesame oil
1 teaspoon white sesame seeds
Procedure:
Marinade the chicken in the shio-koji (or simply season with salt) overnight in refrigerator.
In a bowl, set the oolong tea leaves and pour just enough amount of boiling water to cover the leaves. Set aside for 5 minutes. Drain the water from the leaves.
Combine the leaves with the ginger slices and sake. Mix well.
Get "Mushi Nabe" ready according to the basic steaming instructions.
Put a piece of parchment paper on the grate and spread the half amount of the oolong tea leaf mixture (about the size of the chicken). Gently wipe off the shio-koji from the chicken and place on the top, then spread the rest of the oolong tea leaf mixture over the chicken.
Cover and steam over medium-high heat for 10-12 minutes or until the chicken is cooked through.
Meanwhile, in a bowl, whisk together the ingredients for the sauce and set aside.
Transfer the chicken to a cutting board. Gently wipe off the oolong tea leaf topping and set aside. Slice the chicken into bite-size pieces. Arrange the sliced chicken on a serving plate. Place the oolong tea leaf topping back on the chicken (mince the tea leaves if they tend to be firm). Drizzle some chicken juice from cooking (there should be a small pool of juice on the parchment paper), followed by the sauce. Serve immediately.
Happy donabe life.