I got a really great gift the other day.
It was a package of extremely seasonal, bamboo shoots...these are grown by
Penryn Orchard
(yes, the same grower who makes awesome hoshigaki) in California.
For (almost) any Japanese people, bamboo shoot is one of the most highly-praised seasonal ingredients in the spring. During the season, in Japan, we eat tons and tons of bamboo shoot. As I had never tried California bamboo shoot, I was so thrilled to cook it myself. These American bamboo shoots are much smaller than regular Japanese bamboo shoots, yet they look really fresh and pretty.
Because freshly foraged bamboo shoot contains toxic hydrocyanic acid, before it's ready to be used in cooking, bamboo shoot needs to be pre-cooked with rice bran flour ("nuka") to remove the toxin. By cooking bamboo shoot with rice bran, bran's starch removes the toxin from bamboo shoot and absorbs it. Also, by adding dry red pepper, it helps removing bitterness from bamboo shoot. It's a traditional simple process, which we still practice every time we get fresh bamboo shoot. And, every time, I feel high respect for our ancestors with such wisdom. It's also very important to do this process as soon as you get the fresh bamboo shoot, whether you use it soon or not.
The longer you keep it (without pre-cooking), the more the bitterness in bamboo shoot increases.
Here's how you can prepare fresh bamboo shoot in donabe. For this process, I needed a large-size donabe, so I used
donabe steamer, "Mushi Nabe"
without the grate as a classic-style donabe.
How to Prepare Fresh Bamboo Shoot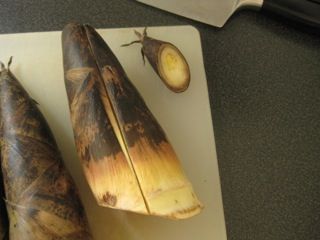 1. Cut off a tip from each bamboo shoot at an angle. Slash to make an incision just deep enough to barely touch the tender part lengthwise.
2. Combine the bamboo shoots, and enough amount of water to cover them in the donabe. Add a big handful of rice bran ("nuka") and a couple of dry red peppers. Bring to simmer and put a drop lid ("otoshibuta") on the surface. Simmer over low heat until the thick part of a bamboo shoot is just tender when inserting a skewer. (35-40 minutes for a small to medium-size bamboo shoot.) Turn off the heat and let it cool down completely.
3. Peel the tough leaves of each bamboo shoot to reveal the tender interior. Cut off the firm tip and bottom parts. Also, shave off the bumpy part from the bottom part's outer layer.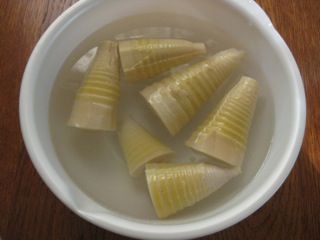 4. Once all the bamboo shoots are peeled out of tough leaves, soak them in cold water for 30 minutes to remove any excess bitterness. Pre-cooked bamboo shoots can be kept in water and refrigerated for up to 1 week. Meanwhile, water needs to be replaced once a day.
Because, I couldn't wait until I use the freshly prepared bamboo shoots for cooking later, I sliced and ate one of them just as is. The tenderness, sweetness, and all the natural pureness of the bamboo shoot was just so special. Amazing.
In the next postings, I would like to introduce a couple of donabe dishes with bamboo shoot.
Happy donabe life.