We had extremely warm couple of days last week, and I wanted to make something with stamina and nice spicy kick.
So, I decided to make mixed rice dish with my
double-lid donabe rice cooker, "Kamado-san"
, and season with this really tasty
Yuzu Shichimi Salt
I brought back from Japan. t's a mixture of shichimi togarashi (mixed pepper spice) with powdered yuzu rind, dry shiitake mushrooms, dry kelp, dry scallop, etc. So, it's like ultimate umami-packed spice salt.
If you don't have yuzu shichimi salt, for this recipe, you can substitute its recipe amount below it with 2/3 teaspoon of each salt and shichimi togarashi.
Just sauté the ingredients while the rice is cooking.
Once the rice is ready, just mix together and serve. It's so good!
Shiitake, Haricot Vert & Bacon Rice with Yuzu Shichimi Salt
Ingredients:
(4-5 servings)
2 rice-cups (360 ml) short grain rice
360 ml water
3 slices (about 3 oz/ 100 g) bacon, sliced into thin strips
1 Japanese green onion ("Tokyo negi") green part only, thinly-sliced crosswise
1 clove garlic, coarsely minced
4 medium shiitake mushrooms, thinly-sliced
4 oz (120 g) haricot vert, cut into 3/4" (2 cm) long
2 tablespoons sake
1 tablespoon soy sauce
1 1/2 teaspoons yuzu shichimi salt (by Rokusuke) or 2/3 teaspoon each salt and shichimi togarashi
Procedure:
In "Kamado-san", combine the rice and water, and cook according to the basic plain rice instructions. Meanwhile, in a sauté pan, sauté the bacon over medium-heat. Once the bacon is almost cooked through, add the Tokyo negi (save some for garnish) and garlic. Sauté until aromatic (1-2 minutes).
Add the shiitake mushrooms and continue to sauté for a couple of minutes. Add the haricot vert and sauté for additional couple of minutes. Add the sake to deglaze. Once the sake is reduced down, add the soy sauce and yuzu shichimi salt. Stir. Once Haricot vert is cooked to crisp tender, turn off the heat and set aside.
When the rice is ready, add the sautéed ingredients to the rice and mix. Garnish with the remaining Tokyo negi.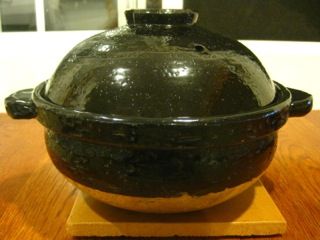 Happy donabe life.