Natto (fermented soybeans)
is one of my all time favorite foods...or, maybe it's
the
all time favorite food of mine. That's why I'm extremely excited about my homemade natto. It tastes amazing...the best natto I've ever tasted! Now, I can't go back to commercial natto, anymore. And the great thing about homemade natto is that it's very easy to make, as long as you have the right equipments and patience. Ingredients for natto are only soybeans, water and natto bacteria! For soybeans, I suggest you choose small organic non-GMO kind.
As a fermentation starter, you need Natto bacteria (culture). It comes with a special spoon to measure it. I brought it back from Japan, but you can also order (different brands) in the US.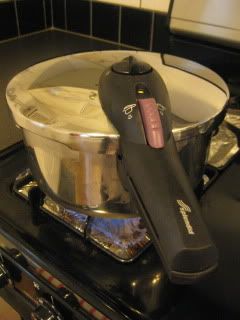 You can use a regular pot to cook soybeans, but pressure cooker will save so much of your time. I bought a pressure cooker just for this purpose!
My special secret weapon...yogurt maker. I also brought it back from Japan. It's Tanica's Yogurtia, which is a light-weight and extremely functional yogurt maker with temperature-control and timer functions. Tanica made the first yogurt maker in Japan in 1971, and their yogurt makers are 100% manufactured and quality-checked in Japan. If you order a different brand's yogurt maker in the US, I would suggest that it has both temperature setting and timer.
Natto is a super-health food.
The health benefits of Natto are considered to be extremely remarkable with high level of different kinds of vitamins, fiber, calcium, protein, etc. associated with enzymes in natto as well as soybean itself. Nattokinase (enzyme in natto) is considered to help making your blood smoother.
Now, here's how to make natto from scratch.
Rinse and soak 200g (about 7 oz) soybeans in ample amount of water overnight (about 12 hours).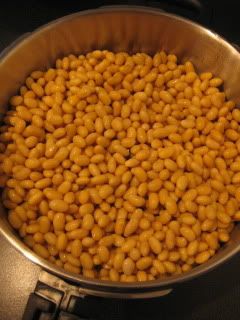 In a 4-qt or larger pressure cooker, fill about 350 ml (about 1.5 cups) water, and set a steam grate or basket. Add the drained soybeans and cover. Set over high heat. Once the pressure is built, reduce the heat to low and cook for 45minutes. Turn off the heat and let it rest for 20 minutes before opening the lid. The beans should be very soft - you might feel they are almost too soft, but they will become tighter after fermentation.
Meanwhile, make sure to sterilize any containers and spoons to be used for fermenting soybeans. For a metal spoon, I pour boiling water, and for container and ramekin, I boil water in them microwave. This will prevent possibly letting the unwelcome germs to grow during fermentation.
In a sterilized ramekin, combine a little shy of 1 teaspoon water with 0.2 g (about 0.007 oz - 2 heaping spoonfuls with a special measuring spoon) natto bacteria. Set aside.
Transfer the soybeans to sterilized yogurt maker's container and add the natto bacteria solution while the beans are still hot. Stir with a sterilized spoon gently to evenly distribute the bacteria. (I normally do this in two steps - transfer half amount of soybeans to a container and stir with half amount of the natto bacteria solution, then add the remaining soybeans and natto bacteria solution and stir again.)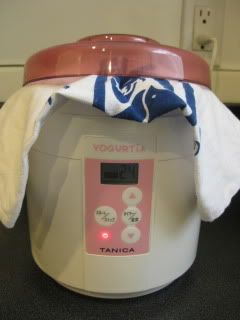 Set the container with the soybeans in yogurt maker. Cover with a piece of cloth and lid. The lid should be slightly shifted so that there is enough space for the bacteria to breathe (very important for fermentation). The cloth will absorb evaporated moistures during fermentation and prevent the beans from getting wet from water drops. Set the temperature of yogurt maker at 45C (113F - about 110F is ok) degrees and timer for 24 hours.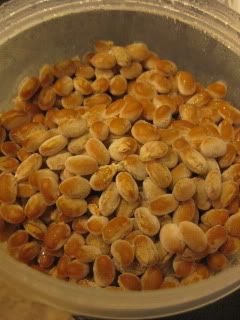 After 12 hours, you can see the beans are getting fermented.
After 24 hours, beans are really fermented and ready to rest. Cover the surface with a piece of plastic (to prevent the natto from getting dry) and again with a lid. Let the natto rest in refrigerator for 48 hours. This resting time will make the flavor of the natto settle.
Natto is now ready! To enjoy natto, you can transfer the amount you want to eat to a small bowl and mix by spoon for at least 100 times before adding any seasoning. The more you stir, the more the amount of amino acid and enzymes in natto will be increased, and natto becomes better in both flavor and nutrition. Add your choice of seasoning (I like natto with just a pinch of sea salt, or sometimes with iri-zake, soy sauce, karashi mustard, and ao-nori).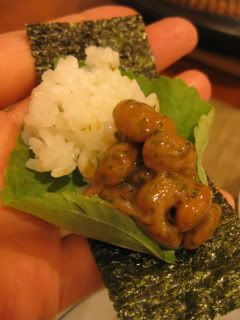 Happy healthy natto life. Happy donabe life.