Another dish using mushrooms and fingerling potatoes...this time, with
microwavable donabe steam-roaster, "Tochinsai"
.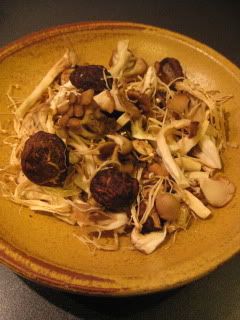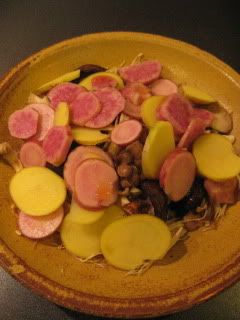 For this dish, you don't need a grate of Tochinsai. Just set some 2-day sun-dried mushrooms in the skillet of Tochinsai. Sprinkle 1T sake. Make another layer with sliced potatoes. Cover with lid and put it in (700-watt) microwave for 4 minutes or until everything is cooked through. Meanwhile, grate 4 oz daikon and squeeze out excess moisture. In a small bowl, whisk together 1T rice vinegar, 1-1.5 tsps sugar, and a pinch of salt. Add the daikon and mix. Add the daikon mixture and some chopped seri (dropwort - leafy plant - you can substitute it with your choice of green plant) and toss everything together.
The quick earthy salad is ready. So good.
Happy donabe life.