Another busy day at the trade show today. We have only half more day...it's been going so fast.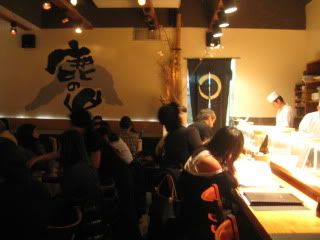 Tonight, we had dinner at
Kanoyama
in East Village with our business friends/ partners. They treated us to an elegant and very authentic Japanese meal. The restaurant has a pretty quiet look from outside, but once you enter, it's a lively izakaya...nice vibe!
Then, we were guided to a back room a very nice sushi counter and tables. The space is more classy and chic. We had their omakase course.
I loved the dinosaur egg-shape bowl! Inside was a sesame tofu. Very nice.
Kabura-mushi, hamaguri soup, and sashimi plate.
Baked gindara in a pouch.
Sushi and tamago...fish were freshest seasonal kinds from both Japan and US.
And, lots of sake...they have a very nice sake list.
I enjoyed the dinner very much. Very high standard.