Jason had a day off yesterday, so he came grocery shopping with me to Gardena. We took a detour to Torrance and first stopped by at
Soba-ya
which just opened a couple of days before for lunch.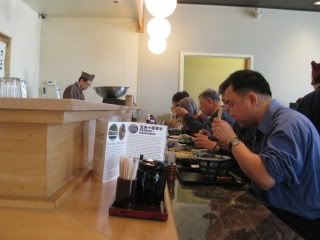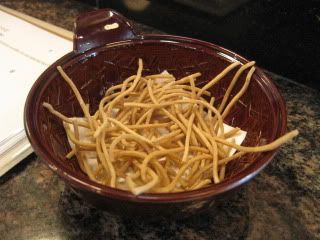 Soba-ya is a brand-new soba restaurant (as the name suggests), which is opened by a large rice distributor, Shinmei, in Japan. It's a very casual place where you can stop by for a quick slurp of noodle for lunch, or you can come here to enjoy soba and izakaya-style menu for dinner. (They are currently working on getting an alcohol license.) It totally felt like I was in a quick lunch spot in a business district somewhere in Tokyo.
I had a set menu of Oroshi zaru soba (cold soba and grated daikon with dipping sauce), and Kayaku gohan (mixed rice). Soba was authentic and good. And, the rice was really good! No wonder this restaurant is run buy a Japanese rice company. The rice was, indeed, Koshihikari rice from Niigata, Japan, and it was so tasty with the nice texture. I was very happy.
Jason had Kamo Nanban (hot soba with duck breast). He was very happy, too.
I wish they opened near my house, then I could go there anytime when I need a quick soba fix. At Soba-ya, as part of
Common Grains
project, they have exhibition of food products from Japan right now. There will also be a soba pop-up until 2/21 (dinnertime only), where you can savor hand-made soba by Sonoko and Mutsuko!