Crazy donabe - mushroom - koji lady here.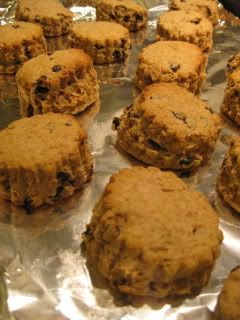 SCONES!
I've completed my new Amazake scone recipe, and it's fantastic. They are almost guilt-free scones, because they got so much amazake in it!
They came out so tasty that Jason ate 6 of them in the morning, and I had to stop him from eating more. The good news is that these scones are much healthier, because only 2 tablespoons of sugar is used for the entire batch (16 scones) and the rest of the sweetness comes only from amazake. Also, amazake gives creaminess to the scones, so there is no heavy cream used in this recipe (but I still like to serve it with cream on the side:-) The amazake cream I serve with the scones is also super tasty with the very natural mellow sweet flavor of amazake in it.
Here's my amazake scone recipe.
Ingredients
2C (about 10 oz) whole wheat flour
1T BP
2T raw brown sugar
1/4 tsp salt
6T cold butter, sliced
1/2C dry currants
1 egg
5 oz amazake base
(Amazake cream - optional)
6 tablespoons heavy cream
3 tablespoons amazake base
Procedure
1. In a bowl, whisk together whole wheat flour, baking powder, raw brown sugar, and salt. Cut in butter (with a pastry blender).
2. Toss the mixture by hand until the mixture is nicely smooth and flakey. Add currants.
3. In a separate bowl, whisk together egg and amazake base. Fold the mixture into flour mixture by a spatula.
4. Once they are mostly mixed, knead gently by hand.
5. Roll it out to 3/4" thickness. Cut and bake at 425F oven for 13-15 minutes.
6. To make amazake cream, whip heavy cram until almost firm. Gently fold in amazake base. Serve with the scones.
(To reheat the scones)
Simply put them in a toaster.
Jason's amazake morning...enjoying freshly-fermented amazake, amazake scones and amazake cream.
Happy donabe - koji life.