It was our final (half) day at the trade show. We wrapped up in the afternoon. 5 days went by so fast...we had a very good market, so it felt good.
To celebrate our final evening, three of us had dinner at
Le Bernardin
of Chef Eric Ripert tonight. It's indeed a fine dining and everything is very elegant there. I was so looking forward to savoring the finest seafood course there. We started early, but the dining room was soon filled up with seemingly mostly local business dinner people. (Because of its internationally famed status, I originally expected more diverse crowd.)
We had a tasting menu.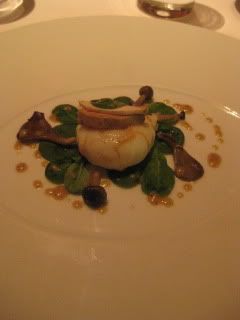 Amuse-bouche - Salmon gravlax, langoustine (or ?), and butternut squash soup. Fluke - Fluke "Sashimi"; Micro Watercress, Avocado, Jalapeno-lime Broth/ Langoustine - Seared Langoustine; Mache and Wild Mushroom Salad, Foie Gras, White Balsamic Dressing...perhaps my favorite dish of the night. Really nice.
Octopus - Charred Octopus; Fermented Black Bean-Pear Sauce Vierge, Purple Basil, Ink-Miso Vinaigrette...It was one of my favorite dishes of the night. Octopus was so tender and all the flavors worked well./ Salmon - Barely Cooked Wild Salmon; Wasabi-Bean Puree, Yuzu Emulsion...salmon was poached only one side, so it was barely cooked. Very nice.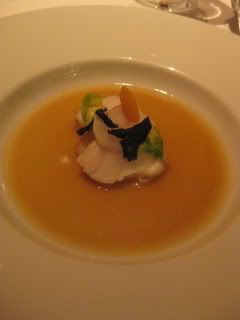 Monkfish - Roasted Monkfish; Brussels Sprouts, Mushroom Custard, Pata Negra Emulsion/ "Religieuse" - Elderflower 'Creme Mousseline', Crunchy Choux, Pear Coulis, Blackberry Powder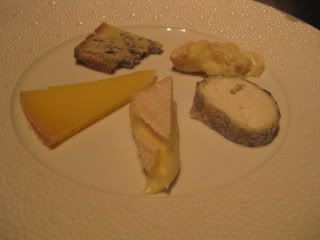 Cheese Plate - In addition to the tasting menu, we selected some cheeses from the cheese cart. It came with toasted bread and more butter.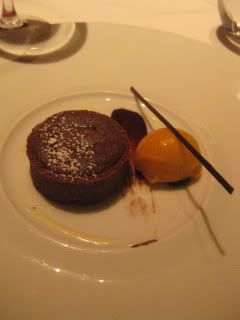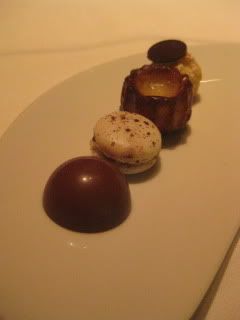 Chocolate & Sweet Potato - Warm Chocolate Tart; Vanilla-Sweet Potato Sorbet/ Last nibbles
Every dish was quite impeccable and really impressive. Both the taste and presentation were with no doubt one of the highest level among all the fine restaurants in the US. We had a nice meal. The service was very professional and everybody was extremely polite. It just felt like we were constantly rushed and something wasn't clicking. And, we politely got kicked out after just 2 bottles of wine...so we went back to our hotel to drink more (ahaha). I think it's probably you have to be a VIP to really enjoy this restaurant.
In any case, I had a great 7 days with Nagatani-en people, and I will miss them until next time we see each other. They are going back to Iga tomorrow.