(October 26)
We left Bitti in the morning, and headed to
Cantina Deidda
in Simaxis, about 1.5 hours to southwest by car. Simaxis is located about 20 km (13 miles) from the coast in the west.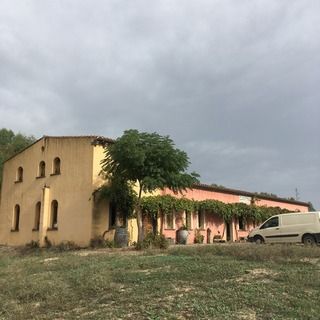 A tiny winery,
Cantina Deidda
, is easy to miss there. This cantina was founded by Giampiero Deitta in 1998. Giampiero had an aspiration to transform noble Sardinian wines into fine spumante by using methode Champnoise. His cantina also makes some still wines (both red and white), too.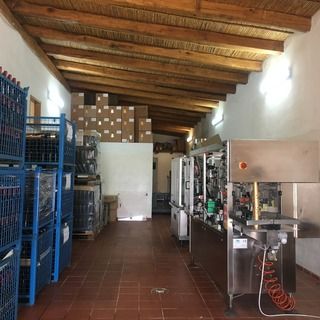 Deitta's enologo, Daniel, hosted our visit. He gave us a full tour of the cantina.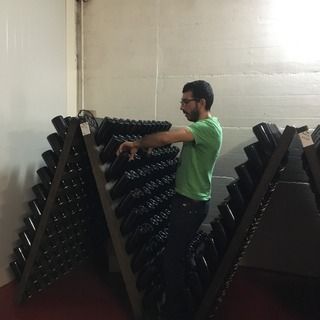 Their sparkling wines are made from Vernaccia, Nuragus, and Cannonau grapes.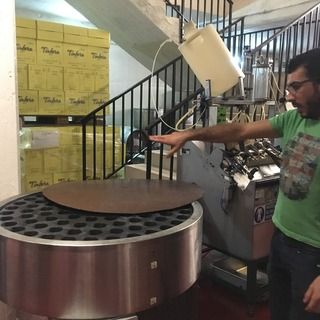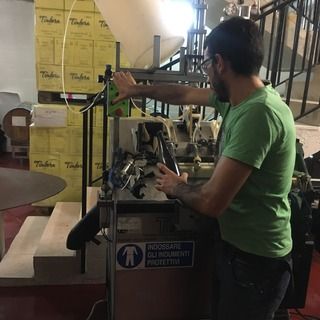 Daniel showed us the degorgemant machine. Unlike large cantinas, their machine was old and small...but very efficient.
Some Vernaccia wines are aged in barrels by leaving some space on top, so the flor (a film of yeast) is foamed on the surface gives unique nuance to the wine during aging.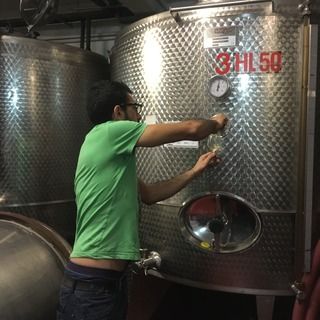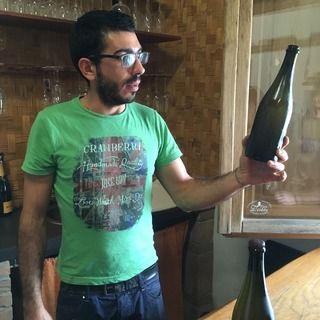 We got to taste Cannonau base wine before the 2nd fermentation. It was quite elegant. The alcohol level at this point is about 10%, then it will increase after the 2nd fermentation.
We also tasted their Fleur Brut, right out of the pupitre before disgorgement.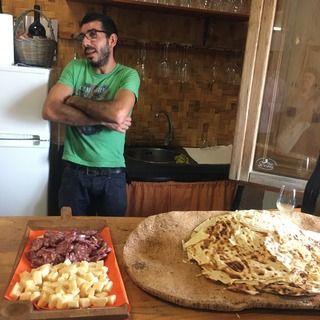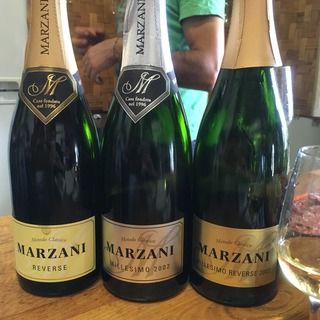 Among the already bottled spumante wines, we tasted the following.
NV Marzano Reverse...24 months sur lie
2002 Marzano Millesimo Brut...Aged for 13 - 14 years sur lie. The bottle was disgorged 4 months ago. It was creamy and elegant.
2002 Marzano Millesimo Reverse...with effect of flor.
It was a great visit.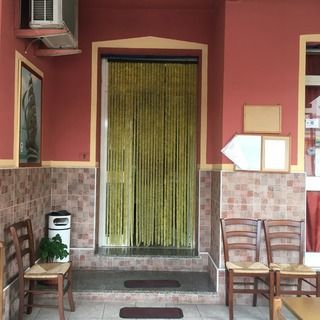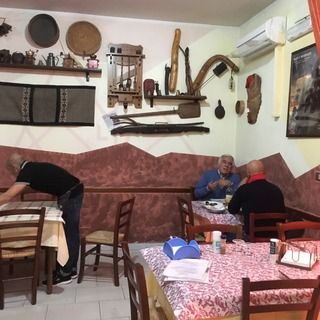 Then, we headed near the coast, and stopped by at a small local restaurant in Santa Giusta. The place is called
Ristorante da Leonardo
. The place was such a humble looking place with local people dining there. I love this kind of place. They serve local bottarga dishes there.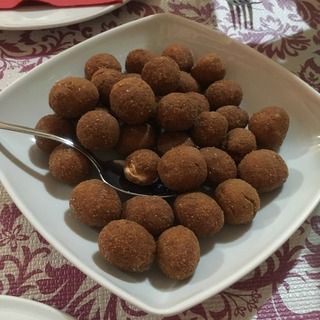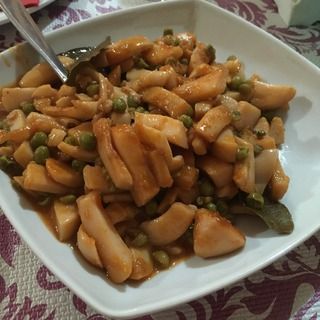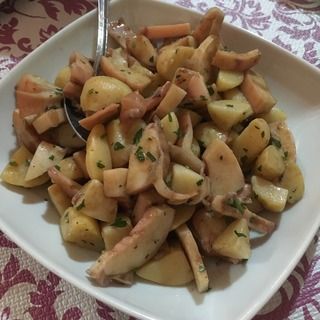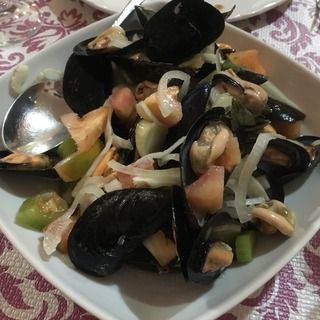 So many antipasti, including minced fish croquettes, sautéed squid, marinated squid, mussels, octopus, and fried eggplant. So good.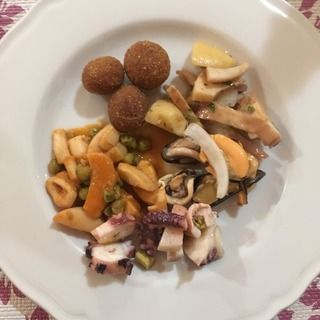 Their house wine was perfectly casual.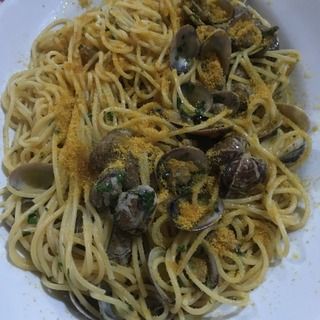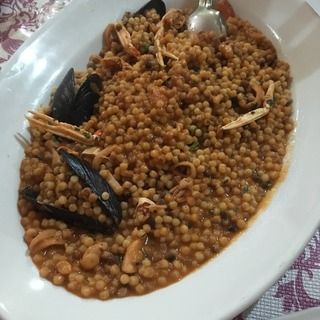 Bottarga time! Clam and bottarga spaghetti was served with extra bottarga (in a tupperware) on the side. It was super delicious. We also had Sa Fregula, similar to grain couscous, cooked with seafood in tomato seafood broth. Wow, the fregula pasta soaked such wonderful rich seafood flavors. I enjoyed it so much.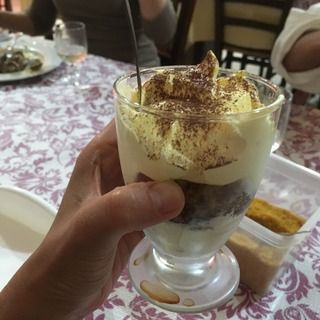 Such a perfect casual meal, very local style.
After lunch, we headed to Cabras to visit
Azienda Vinicola Contini
, a leading winery in the region. Contini is a family winery established in 1898, and their 4th generation Mauro hosted our visit. Now, the winery produces about 900,000 bottles/ year.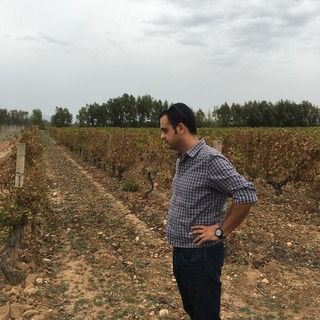 We first drove about 15 minutes to their Vernaccia and Nieddera vineyards. Their vineyard is situated near a river and salt lake, and it's also close to the ocean. In the area, the wine making history goes back to around 1,500 BC.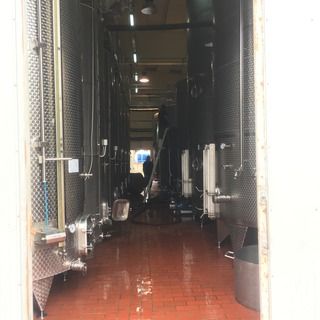 Back in the cantina, we had a tour of the wine making facility and cellars.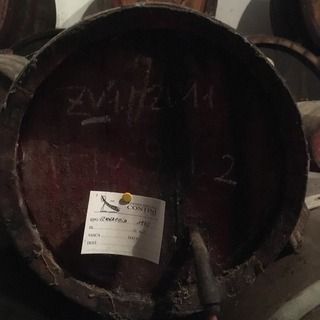 At Contini, they age some of Vernaccia in barrels while letting flor foam on the surface for a long time.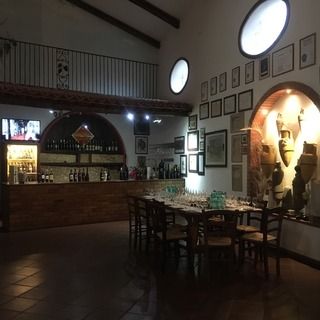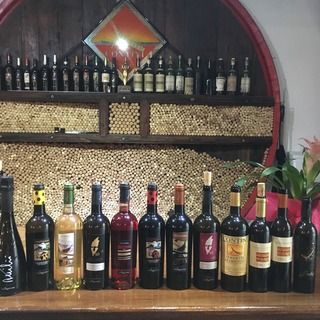 We had a tasting of their extensive lineup.
NV "Attilio" Spumante Brut...Vernaccia 100%
2015 "Mamaioa" Fermentino di Sardegna DOC 14% al. Organic. No SO2 is added.
2015 "Karmis" Bianco Tharros IGT 13.5% al. Vernaccia plus some Vermentino.
2014 "I Giganti" Bianco Tharros IGT 14% al. Vernaccia plus some Vermentino. Aged for 1 year in barrel.
2015 Nieddera Rosato, Valle del Tirso IGT 12.5% al.
2015 "Mamaioa" Cannonau di Sardegna DOC 14% al. Organic. Fermented and aged in inbox.
2015 Nieddera Ross, Valle del Tirso IGT 13.5% al. 4 days maceration.
2013 "I Giganti" Nieddera Valle del Tirso IGT 14.5% al. Fermented in inox, then aged in cement tank, then transferred to barrel (both new and old) for 10 - 12 months.
2005 Vernaccia di Oristano DOC 15% al. Aged for 10 years in oak and chestnut kegs, partially filled to form flor.
1991 Vernaccia di Oristano DOC Riserva 17.5% al. Same style as above. Aged for 20 years.
NV Antico Gregori, Vernaccia di Oristano DOC Cuvee 18.5% al. Same style as above. Aged for decades. Blend from old vintages in 1960s to 1980s.
2014 "Pontis" Bianco Dolce da Uve Stramature 13.5% al. Made from partly dried grapes and late harvest grapes.
Finally, their enologo brought a very special wine (not for sale). It was his family wine, aged for over 50 years. He said the alcohol is about 27%, and it was not even fortified! With the effect of the flor and natural evaporation over so many years, the alcohol gradually increased while the wine stayed so healthy. It tasted really special, indeed, with the nuance of nuts, dried fruit, and somewhat like whisky.
We left Contini and it was already almost 9 pm when we got to our next hotel in Cabras. We checked in, then we had a little "night snacks" at the hotel restaurant.
Another very busy and fun day.