Sedilesu's old vine Cannonau vineyard
(October 25)
Good morning, Bitti. It was another warm morning.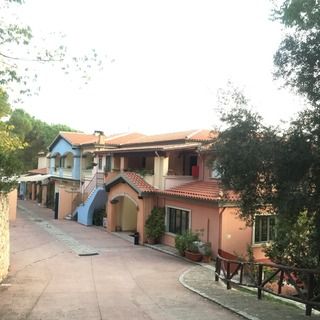 I took a walk around the hotel in the morning. The view from our hotel was gorgeous.
In the morning, we left for Mamoiada in Barbara region. It's a small town of less than 3,000 people in population. The region with ancient history also has many archeological sites. In the heart of Mamoiada, there is
Giuseppe Sedilesu
, a leading winery of the region.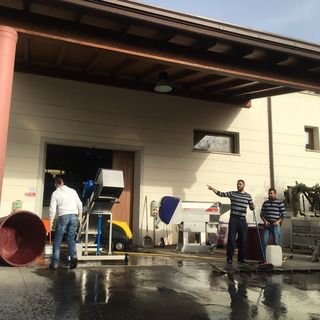 The winery was founded by Giuseppe and his wife, Grazia, and now it's run by their 3 children, their spouses, 13 grandchildren and more family members. Originally Giuseppe and Grazia used to make bulk wines, then in 2,000, their children took over the winery and started bottling and labeling their own Cannonau wines. Now, the winery produces about 13,000 bottles/ year from 15 ha vineyards, and they have a beautiful and modern cantina. They also recently purchased additional 10 ha of vineyards. So, the winery is constantly growing. Francesco, the oldest son, is the winemaker at Sedilesu.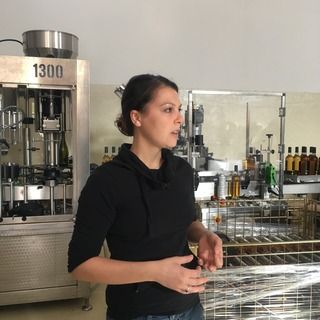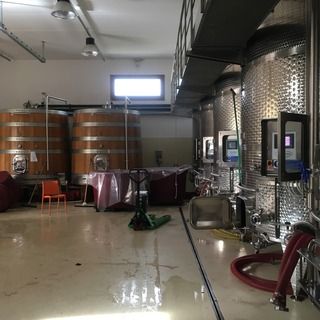 Elizabetta gave us a tour of the cantina first. They use cement tank for younger vine Cannonau, and 2-3 year-old barrique for reserva wines.
Then, we drove to their vineyard. Their grapes are grown organically and biodynamically. Some of their Cannonau vines are about 120 years old! They grown in the granite-rich soil.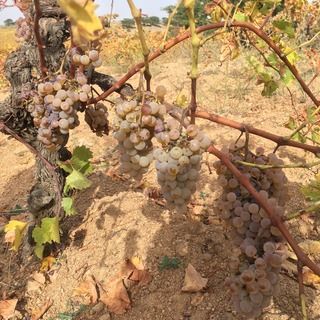 We also found Granazza vines. It's a native white grape variety of the region and Sedilesu is the only local producer making Granazza 100% wines. These vines are planted sporadically.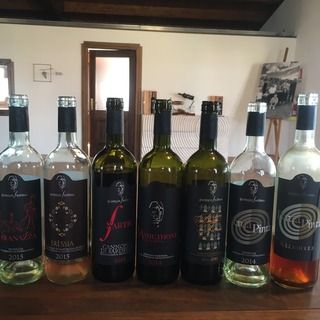 Back in the cantina, we had a tasting of their lineup over light meal. Here's the lineup.
2015 Granazza, Barbagia IGT 13.5% al
2015 "Eressia" Cannonau di Sardegna Roasto DOC 13.5% al
2015 "Sartiu" Cannonau di Sardegna DOC 14.5% al (from younger vines)
2014 "Momuthone" Cannonau di Sardegna DOC 15% al (from 60-year-old vines)
2010 "Ballu Dundu" Riserva, Cannonau di Sardegna DOC 15.5% al (from more than 100-year-old vines)
2014 "Perda Pinta" Barbagia IGT 16.5% al (Granazza 100%)
2008 "Perda Pinta" Barbagia IGT 16% al (Granazza 100%)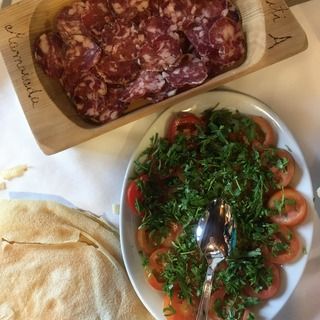 The charcuterie and cheeses were so good, too.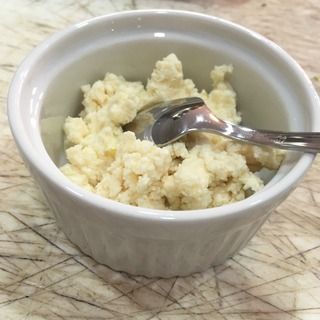 We even got to taste the famous "casu marzu", Sardinia's traditional maggot cheese! It had the soft crumbly texture with a little acidic taste. Casu marzu is a traditional cheese in Sardinia, and it's made from sheep's milk. It's aged with maggot so the larva promotes the fermentation and breaks down the fat and enzyme of the cheese. I was first a bit scared, but I was told there was no more maggot in the cheese after the fermentation. That was true, I didn't see any maggot in my cheese...hew. I enjoyed it with Cannonau Reserva!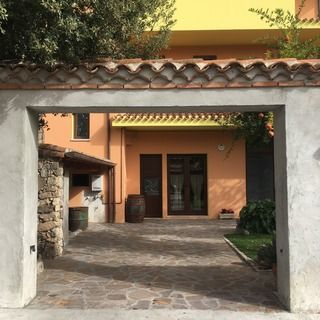 We ended up spending almost 5 hours at Sedilesu. It was such a wonderful visit. Then we drove to a family bakery who specializes in traditional flat bread, "carasau".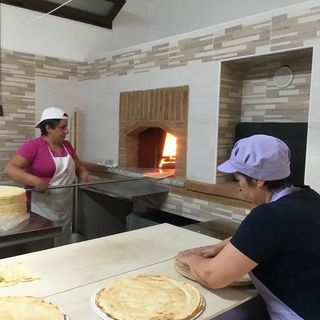 The ladies showed us how to make carasau in the wood-fired oven. It was so quick and so cool. They are baked 3 times. The soft stage of the bread (baked once) was put in the oven one by one. Once it expands like a balloon, it's taken out. Then, it's baked again until just lightly browned, and pressed.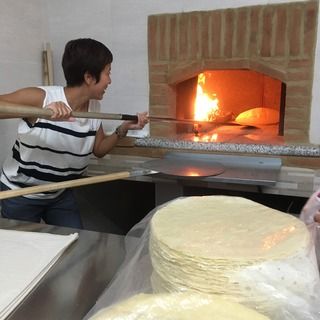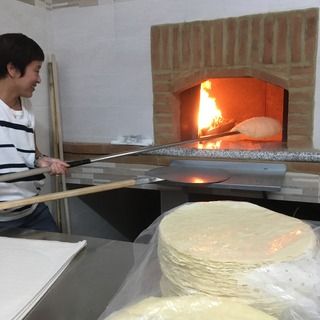 They let me try to bake it! I think I was pretty good. The freshly made carasau was so crispy and so good.
What a great experiences I had in Mamoiada!