Team Donabe!
Monday, September 9
It was Day 2 of Roots conference.
I started a busy morning preparing for the presentation with Chef Kyle Connaughton. We (a.k.a. Team DONABE) were going to give a presentation about donabe cooking! Kyle harvested all the vegetables from The Chef's Garden and prepared for a vegetable hot pot with
classic style donabe, "Iga Ame-yu"
.
Our presentation was the finale of the conference. The theme was
"The Present and the Past: How understanding history makes us wiser people and better chefs"
. To be honest, I was quite nervous before the presentation in front of all the top level of culinary professionals, but once I started speaking, I really enjoyed it! I talked about the history and culture of donabe, and I made rice with
double-lid donabe rice cooker, "Kamado-san"
, to give tasting samples for the audience. It came out to be especially special rice, as I used Koshihikari rice from an organic farm in Uruguay, grown by a Japanese master rice grower, Mr. Ichiro Tamaki. Mr. Tamaki and Mr. Morihiro Onodera (master sushi chef in LA) are the partners of Uruguay rice project and this was their first commercial harvest to be available this fall. The rice is a real premium quality, and it was cooked so beautifully in the donabe. Everybody fell in love with it. With this rice was a little sprinkle of
"Moshio" seaweed salt
from Hiroshima, Japan! The producer of the "moshio" sea salt kindly sent me a boxful of sample packets, so everybody who were at the presentation got to take home a little gift.
I really had a special time.
Below are some additional photos, taken by The Chef's Garden.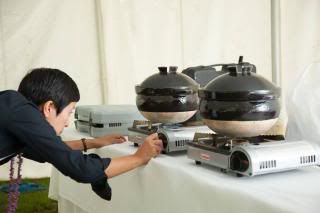 I feel extremely honored to have been able to participate in this special event. And, I am extremely grateful to Farmer Lee Jones and his amazing team.