Tender crisp "Yanaka Shoga" (stem ginger) with miso dipping
I'm updating my blog for the first time in over a week!
I've been back in Tokyo since last week and just returned to LA yesterday.
It was another busy stay, but I had a good time there.
The first lunch after I arrived in Japan was with family at a local soba restaurant. I had cold soba with walnut sauce. Really nice. It was near the end of Yanaka Shoga, which is a famous type of "stem ginger". It's a tender crisp young ginger, which is normally sold with stems and leaves attached. You can eat it raw (chilled) and enjoy the fresh spicy flavor. I was happy to find it in the menu, as it was near the end of its season.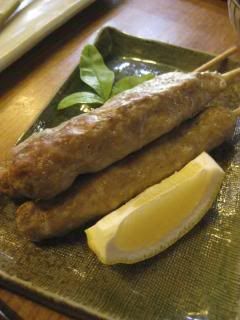 Duck "tsukune" yakitori and "hamo" (pike eel) tempura were so nice, too.
Every time I go back to Japan, I appreciate the fact that something "normal" at a normal local restaurant have high standard. Even their homemade soba was made from special flour from Gunma prefecture.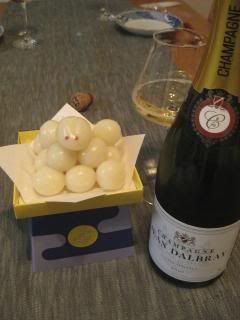 In the evening, since it was an annual "Jugoya" moon viewing night, we enjoyed watching full moon in the clear sky. Traditionally, we serve "tsukimi dango" (dumplings for moon viewing), so did a simple ceremony and enjoyed tasting them afterwards with Champagne.