Unique hidden dining - Osteria T
On a sunny day, my sister took me to Hei Fung Terrace at Peninsula Hotel in Yuraku-cho for elegant dim sum lunch.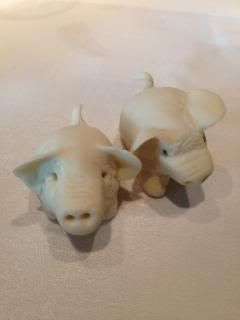 In Tokyo, just like many other cuisines, there are so many top quality authentic Chinese (many are high end) restaurants. Hotel Chinese restaurants are always among the popular destinations for their elegance. Hei Fung Terrace is no exception. I enjoyed every dish so much. A noodle chef made piggie ornaments for us with the noodle dough! They were so cute.
In the evening, I met a friend at a hidden Italian wine bar/ restaurant in Yotsuya 3-chome. It's situated on a small alley and you walk up a narrow steep stairs to enter the place on the 2nd floor. The restaurant is by reservation only and there are only 10 counter seats plus 1 table for 4 people.
The place is called Osteria T and the owner/ chef, Tsujita-san, runs the whole operation by himself. He is an Italian food and wine expert, and once we sat down, there is no menu or wine list. We just enjoyed what he served to us. Tsujita-san is such a fun and entertaining person. We had a great time talking with him and other customers over many dishes and many wines. I especially loved his pasta with onion sauce...onion was cooked over 8 hours to become very rich sauce.
The next day, I had another Chinese lunch! It was at a tiny place at another obscure location in Shinjuku. This place specializes in xiao long bao, made by a trained Chinese chef. Their freshly made xiao long bao were quite big and super juicy. Superb.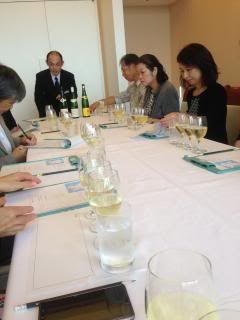 Back in Urawa, I joined a luncheon with the wine tasting group my mom and sister participate in. They get together once every 1-2 months. It's organized by a sommelier at a French restaurant in the neighborhood.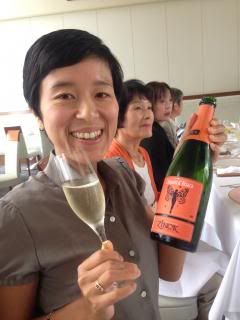 The theme of the day was Alsace, and I enjoyed mariage of those Alsace wines and elegant French dishes, including fresh in season porcini mushroom risotto, foie gras, isaki fish, and duck confit, made by the chef.