Chicken and daikon are a classic combination in Japanese cooking. Until the last minute, I was debating whether I should make a classic stew style dish or a hot pot dish with these main ingredients for tonight. At the end, I decided to do a hot pot. Boy, it came out so rich in flavor and really amazing. For this dish, I used
classic-style doanbe, "Hakeme"
(medium-size). This donabe is just perfect for this recipe.
Chicken wings are marinated in shio-koji overnight, and they are pan-fried, followed by the daikon radish.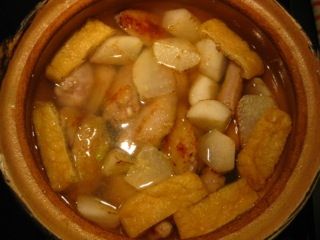 Ingredients are assembled in donabe and simmered until ready. The broth becomes so rich. The chicken wings are fork tender and fall apart in the mouth. Daikon absorbs all the deep flavors.
Shio-koji Chicken Wings & Daikon Hot Pot
Ingredients: (4 servings)
18 oz (500 g) chicken wings (drummettes and mid section)
1 1/2 tablespoons shio-koji (or 1 teaspoon salt)
1 piece 2" x 2" (5 cm x 5 cm) dry kelp ("dashi kombu")
2 1/2 cups (600 ml) chicken stock (preferably Asian style)
1 knob ginger, sliced into 3-4
1 Tokyo negi (Japanese green onion) or 3 scallions, green part only
1 piece rectangular fried tofu pouch ("abura-age"), blanched and cut into 8 strips
1 1/2 tablespoons potato starch ("katakuriko")
1 tablespoon olive oil
8 oz (240 g) daikon, cut into oblique
1/3 cup (80 ml) sake or Chinese rice wine
1 tablespoon light color soy sauce ("usukuchi shoyu")
1/2 teaspoon salt
1 1/2 oz (50 g) glass noodles, cut into 4" (10 cm) or shorter
3 oz (100 g) enoki mushrooms
1 Tokyo negi (Japanese green onion) or 3 scallions, white part only, thinly-sliced diagonally
5 oz (150 g) mizuna, cut into 2" (5 cm) length
2 teaspoons sesame oil
ground black pepper
yuzu kosho paste
Procedure:
Rinse the chicken in cold water and pat-dry with paper towel throughly. In a bowl, combine the chicken and shio-koji. Mix well by hand. Cover tightly and refrigerate overnight (or at least 2-3 hours).
In a separate bowl, combine the dashi kombu with the chicken stock. Set aside for 30 minutes to a few hours.
Put the ginger, Tokyo negi (green part only), and abura-age in the donabe.
Combine the chicken with the potato starch, and mix well by hand.
Heat the olive oil in a sauté pan over medium heat. Add the chicken pieces and and cook until the bottom sides are golden (2-3 minutes). Turn them over and cook for another minute or so. Transfer the chicken to the donabe.
In the same sauté pan, add the daikon and cook until both sides are lightly golden (about 2 minutes per side). Turn off the heat. Transfer the daikon to the donabe.
Add the chicken stock (with the dashi kombu), and sake into the donabe. Set over medium heat. Remove the dashi kombu when the broth is almost simmering. Skim as necessary.
Place a drop lid (or line the surface with a piece of parchment paper). Cover with lid and simmer over medium-low heat for 15 minutes.
Add the soy sauce, salt, glass noodles, enoki mushrooms, and thinly-sliced white part of Tokyo negi. Cover again and continue to simmer for additional 5 minutes.
Add the mizuna and cook for 1 minute.
Drizzle the sesame oil and sprinkle some ground black pepper.
Divide into individual bowls and serve with some yuzu kosho paste on the side.
Happy donabe life.