A friend of mine, who is a soba maker, just returned from Tokyo and came to our place for dinner. She showed up with a lot of gourmet foods from Japan, as well as her freshly-made "Ju-wari" soba noodles, made from freshly ground soba flour from Japan. "Ju-wari" means 100%, so this style of soba is made from 100% buckwheat.
So we did a fun izakaya night.
Yes, I made more "karaage"...and this time, I found Chicken "nankotsu" (cartilage between breast meats) cuts at a Japanese market. So, I was really excited and made a Chinese-style fried chicken.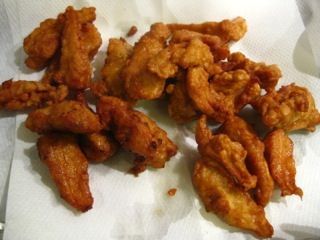 For the batter, I also used Chinese five spice and whole egg. Once they were fried, I served them simply with lemon wedges. They came out really good, with the thin crispy breading and nice crunchy texture. I love chicken "nankotsu" so much!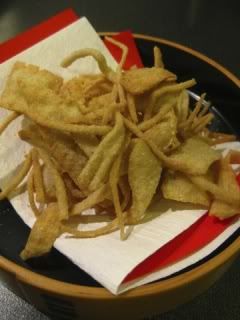 I also fried her leftover end cut soba noodles. They make such a nice snack. We also had some special ikura (salmon roe) from Hokkaido, fava bean miso, natto kombu, etc.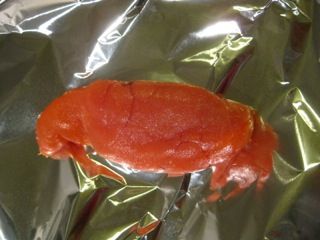 With a big tarako (salted cod roe) from Hokkaido, I quickly fixed a dish with avocado, Tokyo negi, and irizake. It was so nice with Junmai Ginjo "Tamajiman" from Oume, Tokyo, which she also brought back from Japan.
Then, we had the special soba time. Her handmade "Ju-wari" soba was superb! We enjoyed with dipping sauce and some ground walnuts from Niigata, Japan.
Fantastic night.
Thank you, Sonoko-san.