"Nikujaga", which translates into "meat and potato", is a traditional Japanese comfort food. It's classically made with thinly-sliced beef, cut potatoes, and vegetables, and made into soy-flavored stew.
With my
soup & stew donabe, "Miso-shiru Nabe"
, my rustic and very homey Nikujaga always becomes deeply flavored and very nice.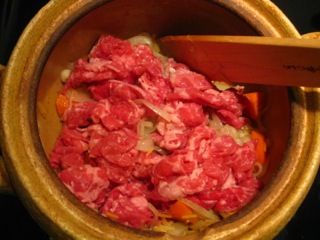 Meat and vegetables are simmered together.
So rich and comforting flavor. I love my donabe Nikujaga".
Ingredients: (4 servings)
1 tablespoon sesame oil
1 knob ginger, thinly-sliced into shreds
1 medium-size onion, thinly-sliced
14 oz (400 g) thinly-sliced beef, cut into bite-size pieces
4 oz (120 g) carrot, cut into oblique
14 oz (400 g) yukon gold potatoes, cut into large cubes
8 oz (240 g) "konnyaku" yam jelly noodles, cut into bite-size length
1/4 cup (60 ml) sake
1 1/4 to 1 1/2 cups dashi stock
2 tablespoons Okinawa black sugar or raw brown sugar
2 tablespoons mirin
3 tablespoons soy sauce
2 tablespoons light color soy sauce ("usukuchi shoyu")
shichimi togarashi
Procedure:
Heat the sesame oil in "Miso-shiru Nabe" over medium-heat. Saute the ginger and onion until the onion is very soft (7-8 minutes).
Add the beef and stir until it's mostly cooked.
Add the carrot, potatoes, and konnyaku noodles. Stir again.
Turn the heat to medium-high. Add the sake and enough dashi stock to almost cover the ingredients.
Add the sugar and mirin. Once the broth is almost boiling, turn the heat down to simmer. Meanwhile, skim as necessary.
Line the surface with a drop lid ("otoshi buta") or a parchment paper. Cover with lid and simmer for 10 minutes.
Add both kinds of soy sauce and continue to simmer for 15 minutes or until the potatoes are tender when tested with a toothpick.
Turn off the heat and let it rest for 15 minutes.
Serve into individual bowls and sprinkle some shichimi togarashi if you like.
*If you have time, let it rest for a few hours (or at least 30 minutes) and just reheat when ready to serve. With the additional resting time, the flavors will be even more integrated and better.
Happy doanbe life.