This is my regular multi-purpose donabe chicken stock. It's so simple, fast, and delicious. Chicken wings, with their bony and collagen-rich structure, gives very nice flavors to the broth in a short time. The bonus is that because the chicken wings are cooked for short enough time, you can also serve them in a dish. They become very tender and flavorful.
I always use
classic-style donabe
to make my stock, because the gentle heat distribution of donabe makes a very elegant and rich broth. With its remarkable heat-retention ability, its extra-slow cooling process helps further deepening the flavor, too.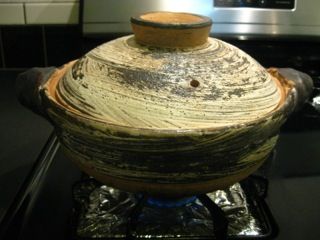 Ingredients are put together and simmered for 20 minutes.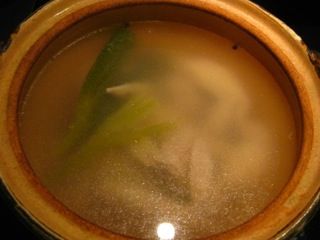 After 20 minutes resting, pure and rich chicken stock is ready.
It's perfectly white. Cooked chicken are so tasty, too.
Quick Japanese Chicken Stock ("Tori-dashi")
Ingredients:
(makes about 4 cups or 1,000 ml)
1 pound (450 g) chicken wings (mid section with tip)
1 1/2 tablespoons shio-koji or 1/2 tablespoon salt (optional)
1 Japanese green onion ("Tokyo negi"), green part only (can be substituted with green parts from 2 scallions)
1 knob ginger, sliced into 3-4
6 black pepper corns
5 cups (1,200 ml) water
Procedure:
In a bowl, combine the chicken wings and shio-koji (or salt) and mix well by hand. Cover and let the chicken marinade 2-3 hours to overnight. *If you want to serve the chicken afterwards, this process will help making the chicken tastier. Or, you can completely omit this process and start with unseasoned chicken.
Rinse the chicken in cold water throughly, and combine with the rest of the ingredients in donabe.
Cover with lid and set over medium-high heat. As soon as the broth starts boiling, turn down the heat to simmer. Skim as necessary.
Cover the surface with a drop lid ("otoshibuta") or line with a piece of parchment paper. Cover with lid again and simmer for 20 minutes.
Turn off the heat and let it rest for 20-30 minutes. *The resting time will help further deepen the flavor of the stock.
Transfer the chicken wings to a bowl and save for another use. Strain the stock.
Tip: If you want to make extra-rich collagen-packed chicken stock, continue to simmer for 4 hours. Replenish with more water as necessary to avoid the stock is reduced too low. Chicken wings used for the extra-rich stock should be discarded, as they become quite exhausted after simmering for a long time.
Happy donabe life.