On Sunday, after 2 nights in Sonoma, we drove down to San Francisco to spend one night there.
We were among the very lucky people to be invited to a special event for a book,
"Come In, We're Closed" by Jody Eddy
, who is one of the hottest and most talented food writers and she travels all around the world.
For this event, we were invited to join the real staff meal at
The Slanted Door
before their dinner service. This is one of the restaurants featured in Jody's book. The meal was a simple pulled pork, green and mushroom mixed salad, and cheese grits. It was simple and very good! When we were walking out of the restaurant, there were already a huge crowd waiting for the restaurant's opening for dinner!
After the staff meal, we stayed at The Slanted Door for another reception!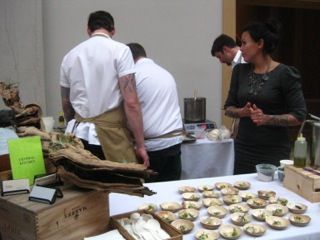 Then, a big party on the 2nd floor of the Ferry Building! All the food vendors were San Francisco's local restaurants and shops, and they were so nice. We had a great time, and we basically closed down the party. After this party, we went to another one in town. What a fun night we had!
The next day, before we hit the road back to LA, we stopped by at Tartine Bakery for breakfast and also picked up a bunch of different pastries to take home. Every time we come to San Francisco, we basically can't miss
Tartine Bakery
...after all, they are just always the best!
We were back in LA finally in the evening. And, yes, we always go to Koreatown for a meal after we come back from travel. We did
Jun Won
had some grilled sea trout and chicken dish. It was nice to be back in town.