Another super sunny and warm day in Budapest. I've been so lucky with weather for the entire travel this time.
We started with the kurtoskalas we picked up yesterday evening. The bread is so popular that I even saw a delivery motorcycle of this Hungary's "national" bread.
We left home in the morning and took a bus to get to the city central.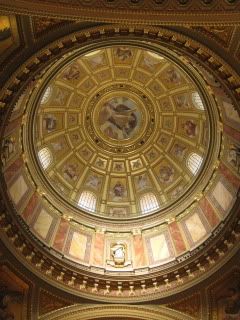 This is the famous
Szent Istvan Basilica
. It was breathtaking both outside and inside. "Holy right hand" is the mummified hand of Szent Istvan I (Saint Stephen I) who was the first Christian king of Hungary in 1,000's.
We went up to the top of the cathedral to see the 360-degree view of Budapest.
For lunch, Koroko took me to try "very Hungarian" style street food. On a small street just a short walk away, there were rows of street vendors.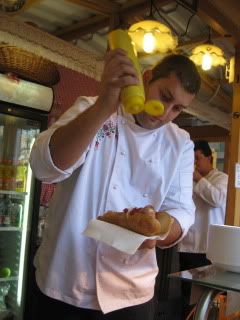 Since I really wanted to try Hungary's Mangalica pork again, we tried the sausage vender!
I ordered Mangalica and herb sausage. Koroko had the same sausage, but hot dog style. The sausage was huge! The flavor was quite salty, but really good and the texture was perfect. With the sausage, I had local "Hot wine". It was like a sweet spice wine.
Great experience.