This past visit in Italy was a great one. Foods from near coastal areas of Friuli were full of fresh vegetables and seafood, and I especially enjoyed their simple preparations.
As soon as I returned to LA, the first dish I wanted to do was a simple roasted fish with olive oil! So, the morning after I came back from Italy, I drove to LA Fish Market to pick up a whole arctic char from New Zealand. It weighed 3 pounds, and so shiny fresh.
The preparation was very easy. I drizzled olive oil on parchment paper, put a couple of long twigs of rosemary, and the cleaned arctic char on the rosemary. I stuffed a few twigs of rosemary inside the cavity and rubbed more olive oil on the fish skin. Fish was lightly seasoned with salt. The tail was coated with extra salt to prevent it from burning during cooking.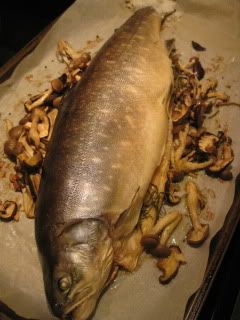 Shimeji and shiitake mushrooms were arranged around the fish and tossed in some salt, pepper, and olive oil. Then, I just roasted the fish at 425F in the oven for 25-10 minutes.
To serve, fish was deboned and served into individual plates, and seasoned with salt, pepper, a little squeeze of lemon, and good drizzle of olive oil.
Totally pure and delicious. Reminded me of Friuli!