After 3 nights in Budapest, it was finally time to go back to LA. I didn't want to leave!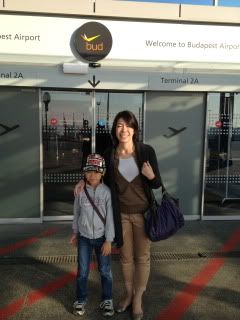 Koroko and Ryosuke took me to the airport to see me off. They are moving to Moscow in a few weeks, so I want to visit them there next time. I will miss them until then! Koroko gave me the most generous hospitality in this stay and I can't thank her enough.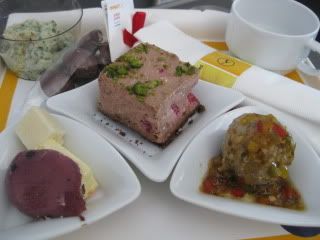 The journey back to LA was long but pleasant again, because I got to fly first class. On the Budapest-Frankfurt flight, I had small bites from a light meal of mysterious items.
Flight going back from Frankfurt started with Vegetable spring roll and ginger prawn skewer with chili sauce. It was followed by Wild mushroom and asparagus soup, and Fresh seasonal greens.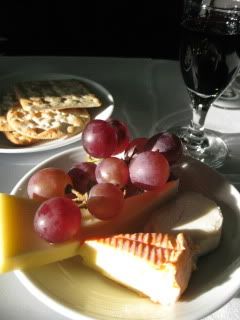 For the main course, I normally choose fish, but the choice was tilapia, which I think is a boring fish generally. So, I picked Tenderloin of beef with port wine sauce, fried onions, asparagus-filled pasta, spaetzle, carrots and zucchini. The tenderloin turned out to be very good! To finish, I had cheese and port, then I got too full to do dessert.
Wines were pretty nice, too. I had the following selections.
2006 Nicolas Feuillatte, Champagne Brut
2008 Bouchard Pere & Fils, Beaune du Château 1er Cru Blanc
2009 Chateau Fourcas Dupre, Listrac-Medoc, Cru Bourgeois
2009 Paul Jaboulet Aine, Crozes-Hermitage, "Les Jalets"
Before arrival, there was mysterious chicken wrap...
At LAX, Jason came to pick me up. It was so happy to see my most wonderful husband in 2 weeks!