On Monday, my mom and I started our trip back to Seoul, Korea. It had been just a little over a year since our last trip to this exciting city.
We left Haneda Airport at around noon. From Tokyo to Seoul, the flight is easily less than 2 hours.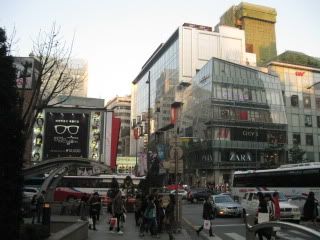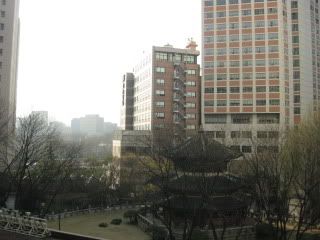 Hello Seoul! The weather was sunny and mild when we arrived. It's in the middle of the spring season in Seoul. The hotel we were booked in was one of the most luxurious and conveniently situated in town. From our room, we got a nice view of a historic alter and mountain in the background.
For dinner, we walked to a popular Samgyeopsal (pork belly BBQ) restaurant in Myeong-Dong District. The restaurant is called Huktonga(I don't know its proper spelling in alphabet… it's "black pig" in English translation). The restaurant specializes in premium kurobuta pork from Cheju Island.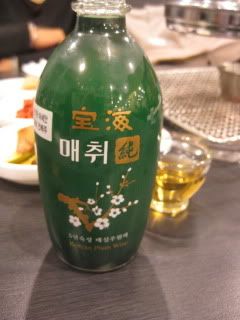 Korean plum wine and banchan.
We started with Sen-Samgyeopsal (fresh-cut pork belly) which came with extra pieces of pork skin. With the meat, a cup of house special dipping sauce was boiled on the grill, too. The sauce was made from 8 kinds of condiments including aged anchovy and it's supposed to taste better when it's boiled. Completely a new thing to me! The lightly salt-seasoned meat was indeed really nice with the very rich-flavored sauce.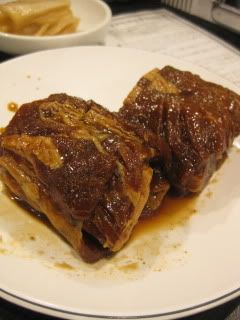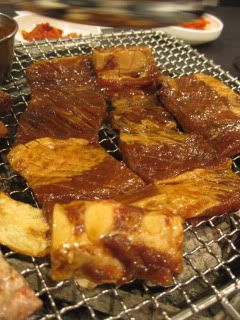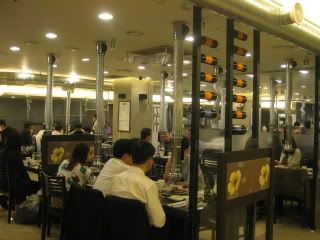 Marinated kurobuta pork was so juicy and nice, too. The last dishes were doenjang jjigae (Korean-style miso soup) and rice. We had a nice power dinner! I also loved the very lively ambience of the place.
After dinner, we walked around in Myong Dong's shopping district. It was a Monday night, but there were so many people (both locals and tourists) out there. So much fun. At one of the district's restaurant storefronts, we found strange creatures which look like giant swimming warms. What are they??? Later we found what they are, so I will write about it soon:-)