On Friday evening, I visited
Nagatani-en's donabe shop, iga-mono
, in Ebisu. It was my first time to go back to the shop since
March 11 last year
. I had flashbacks of the extraordinary night I spent with Isako-san (manager of iga-mono shop and also the youngest daughter of Nagatani-en) and iga-mono staff.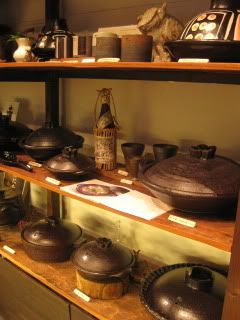 It was so wonderful to see Isako-san, Akiyo-san (older sister), and Takemura-san (donabe specialist)! They welcomed me with big smiles. They looked great and so as the shop. The small shop was packed with the beautiful donabe and Iga-yaki products, including some new items...I want to import them all to the US!! Hopefully I can add some more to my
current lineup
.
They took me to dinner at a Chinese restaurant in Gotanda District. Isako-san told me it's one of her favorite Chinese restaurants in the neighborhood and they serve authentic Xi'an cuisine, including hand-made knife-shaved noodle (刀削麺). The place had a casual laid-back ambience, and I could already tell the food was going to be really good as soon as we entered.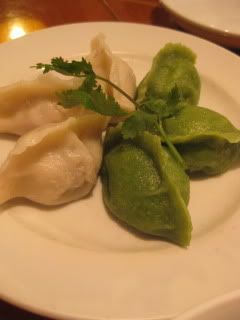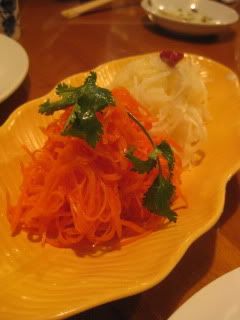 Small dishes with so many layers of flavors. I just couldn't stop eating. Wow. Everything was so good. Freshly-shaved noodles in spicy broth was great, too.
Nagatani sisters! We drank a few pitchers of aged Chinese rice wine (紹興酒) after beer. We had such a great time together.