I came to Roppongi District on Sunday for lunch.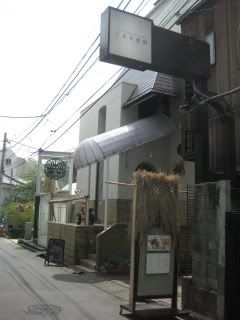 Just a short walk from Roppongi Station, there is a high-concept "farm-to-table" restaurant called, Roppongi Nouen. The restaurant is tucked in a small alley, where both residential and commercial buildings are crammed side by side. Roppongi Nouen's building is actually a former residential house with a yard, which was turned into a restaurant.
We were escorted to a table by the window in a small dining room. It made us feel like we were invited to lunch at someone's house. From our table, we could see the chefs in action inside of the semi-open kitchen.
In this restaurant, they serve modern Japanese with premium ingredients from both their own garden as well as organic farmers/ producers from all over Japan. We had their lunch course which included donabe hot pot dish, so I was really excited. We had a toast with a vinegar cocktail, flavored with apple vinegar. It was very refreshing.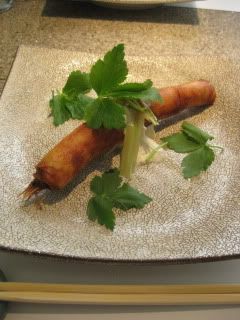 First course was whole ama-ebi (jumbo prawn) spring roll with udo kimpira and homemade koya-tofu (freeze-dry tofu). There was a whole ama-ebi from Toyama Bay plus extra ama-ebi filling in the middle. Gorgeous.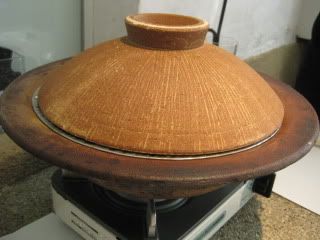 Our hot pot dish was set on top of a portable burner on the table. The donabe was authentic
Iga-yaki classic-style donabe "Yu-Kizeto" by Nagatani-en
! Yes, Nagatani-en's donabe are loved by chefs in Japan for their functionality and beauty.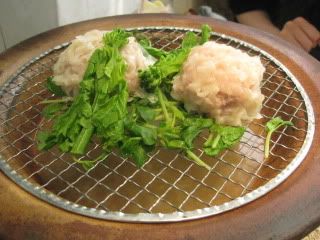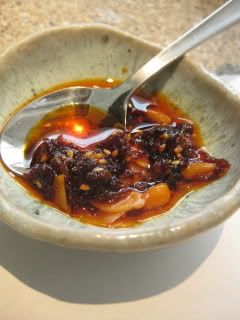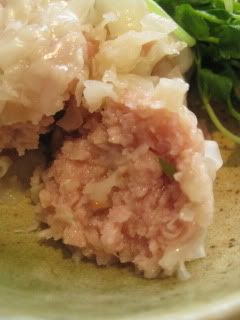 Once the lid was removed, voila, there were two huge steamed chicken "Samgyetan" shu-mai dumplings on a grate over the rich chicken broth. How original it was for them to create a quick steamer by setting a metal grate on donabe. The chicken was Kanmuri chicken from Oita Prefecture and it was made with jujube, and vegetables into dumplings. This shu-mai with chef's special chunky la-yu was so fluffy and excellent.
Then, the grate was removed and the next course was shabu shabu with the broth. It was served with soybean and multi-grain rice (free refill!). There were slices of Kanmuri chicken breast with Chinese medicinal vegetables. Unbelievably natural and deep flavored dish. I wish I could eat this dish every day!
Dessert was also perfect to end the meal. Apple sorbet and strawberry gelato.
It was such a satisfying meal for both body and heart, and I felt so good after I finished everything. After the meal our waiter kindly gave us a little tour of their vegetable garden. They also have outdoor tables in a tent. I would love to come back to dine at their outdoor table next time.