I rarely cook long-grain rice at home, but…
I got premium-quality heirloom rice of
Anson Mill's
.
So, I made sushi rice with it in
double-lid donabe rice cooker, "Kamado-san"
! First, I cooked the rice with the rice/water ratio 1: 1.25. (400 ml rice to 500 ml water). I made rice in a regular way with Kamado-san. The rice came out a bit on the softer side, but it was so shiny and nice. As soon as the rice was ready. I tossed it in vinegar seasoning (4T rice vinegar, dissolved with 1.5T raw brown sugar, and 1tsp salt)
Meanwhile, I sauteed my 2-day sun-dried mushrooms (2 clumps of shimeji mushrooms and 8-10 shiitake mushrooms) in sesame oil, and steam-fried in 2-3T of sake for a few minutes. Then, I added some edamame, and seasoned with 1T of my homemade
shio-koji
. To finish, I tossed them with some thinly-sliced our
home-grown yuzu
rind! Once the sushi rice was ready, I mixed in 2/3 of mushroom mixture into the rice. Then, covered the top with the remaining mushrooms.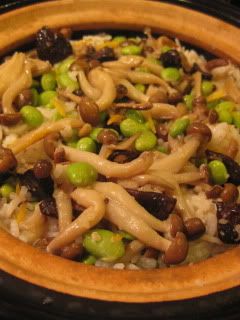 It came out wonderful! The rice was so aromatic and fluffy. It was also quite fragile, and not chewy like Japanese rice. The flavor combination with shio-koji mushrooms was perfect, too.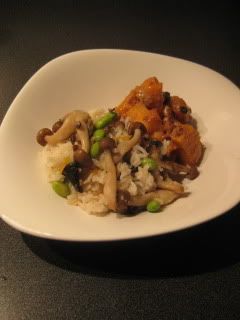 My happy rice dish. To serve, I squeezed some yuzu juice over rice.
Happy donabe life.