Since the beginning of New Year, I've been so busy...there are so many projects combined with travels lined up back to back for the next couple of months already. I'm almost dizzy!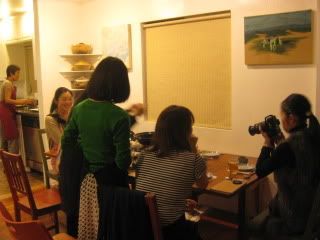 My first donabe & Japanese cooking class of 2012 was a private Shojin (Buddhist-style vegan cuisine) class. The group was my Japanese girlfriends, so it turned out to become a dinner party and we all had such a fun time together. We even watched "Ko-haku" (huge traditional Japanese New Year's Eve music show) which I recorded and laughed a lot until 1 am! These are the blog postings (Japanese language) by Emiko (she is a professional model and also runs private/ online boutique for kinds) and Midori (she is a total planner of baby shower and creates diaper cakes) who were at the private class. Thank you, girls!
Just yesterday, I did a big project of cooking and plating dishes for a catalogue photo shoot for a Japanese dishware company. In one day, I made more than 20 dishes (23 or 24...I lost count!) all by myself to plate in their beautiful plates and bowls, and the pictures were taken by a photographer one by one. It was very intense, but a real fun project!
This project required days of planning and strategizing (plus lots of shopping and cooking!). The day before, I spent all day prepping in full swing with no resting time.
With the great professional work of the crew (they were so cool), everything went very smoothly at the photo-shoot and it was a success. I also got to make some donabe dishes.
I can't wait to see the finished catalogue.