It was already the final evening of my stay in NYC in this trip. Too little time to try all the good food! My friend had made a reservation for a whole pig roast dinner at
DBGB Kitchen & Bar
, which is Daniel Bouluud's casual brasserie specializing in sausage and artisan beer. Some of her friends as well as another friend of mine joined, so there were 7 of us.
The restaurant is so stylish and lively. The large dining area was absolutely packed for the whole evening. We were, in fact, so lucky to have got to reserve for the pig roast dinner, because they roast only one pig for one group per evening! The special pig dinner includes the whole suckling pig, appetizer, side dishes, dessert, and endless artisan draft beer from the list!
Fromage de Tete
…Gilles Verot's award winning chilled pig's head terrine. Beers were so nice, too. My favorite was Ommegang Witte, Belgian-style white (wheat beer from NY).
The main event…
Roasted Suckling Pig!
Our server first presented the whole pig to our table before slicing them. It was quite huge (I could easily feed more than 10 people!). The meat was cooked like pate-style. It was stuffed with bacon and fine herbes.
The pig roast was served family style with
Swiss chard-gruyere-potato gratin, Housemade red & white sauerkraut, and Truffled corn-on-the cob
.
We kept eating and eating the pig, and there was still so much. We also cracked the head open for more meat. My favorite part was the cheek meat…it was so oily, juicy, and just filled with flavors. Everything was so delicious and really rich. As an Asian, maybe I would have appreciated the pig even more if the skin was crispier and juicier. Their focus was definitely on the meat inside, instead of the skin.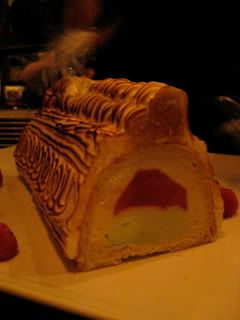 The dessert was
Baked Alaska
..Vanilla & verbena ice cream, raspberry sorbet, fresh meringue flambee with chartreuse. The cake was set on fire at the table and it was a nice presentation.
Oh boy…I was seriously full after the dinner. It was A LOT OF FOOD. I had a great time. Both the food and the beer were excellent. I would so love to come back here next time to try their regular menu.