On the second day morning of my NYC visit, I was still so full from the previous night's shojin kaiseki dinner. It was a big meal and I ate literally everything which was served. So I worked out a little extra in the hotel's gym (I ran about 4.5 miles), but I still wasn't so hungry for lunch.
For lunch, I met an old friend of mine from Tokyo. In fact, we hadn't seen each other for over 10 years! He works for a Japanese company based in Tokyo and have been assigned to work in the Manhattan office past 4 years. We met during his lunch hour near his office. I requested a light meal, so he took me to a soba restaurant called,
Soba Totto
in Midtown.
He said it's a very popular restaurant in the neighborhood. We both had today's special combination of
Bara Chirashi (scattered raw seafood over rice) and cold soba
. The soba was really nice and it felt just like I was in a restaurant in a busy office district in Tokyo.
We talked about food, music, life, etc., and had a fun time. He is a serious foodie (he said he's been to more than 250 restaurants in Manhattan in the past couple of years and even made an informative list of them!), so I got some great tips about restaurants in NYC.
After I saw him off by his office building (he had to go bak to work), upon his suggestion, I went to check out
EATALY
, which is a brand-new gourmet market/ restaurant space, which is all about Italian food and wine. Eataly, which was originated in Torino, Italy, already has a few different locations in Japan (of course!), but Manhattan location is the first in the US. It opened about 3 weeks ago with the huge hype, especially since this huge Italian market was created by Mario Batali and others.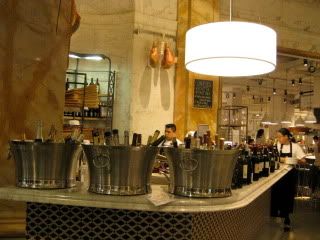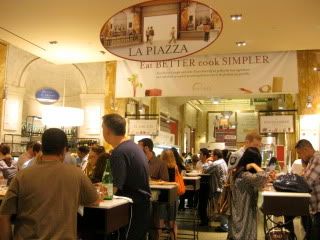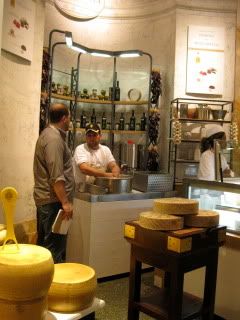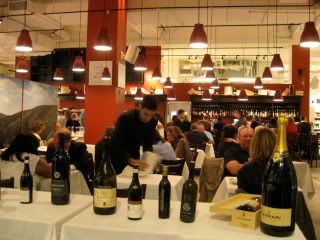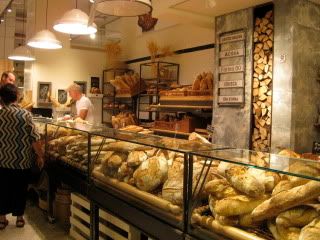 I was so overwhelmed by the size of the market and the selection of things sold here. There is a wine shop, a corridor with so many different take-out vendors, several different restaurants (all open areas), standing café restaurant, market space of Italian ingredients, cookware/ cook books, meat and seafood stores, etc. My friend said that the market was so crowded when he came last Sunday that they had to limit the number of people who can get inside and there was a huge waiting outside. Not to mention that every restaurant inside had a long waiting also.
I decided to come back here for lunch Wednesday before going back to LA.
The weather was so gorgeous in NYC, so I continued to take a walk and explored the city in the afternoon.