Hollywood Bowl season is here. This year's first show for us was Janelle Monae. Our dear friends, Asami & Steve invited us to join them in their box seats.
So, I made obento (boxed meal) for us! I made total 8 dishes, including onigiri (rice balls). But, I forgot to take any photo of my donabe rice onigiri. It was mixed with seasoned bonito flakes, shiitake, and kombu. I love making obento in the summer season, as these seasonal ingredients are so colorful and gorgeous.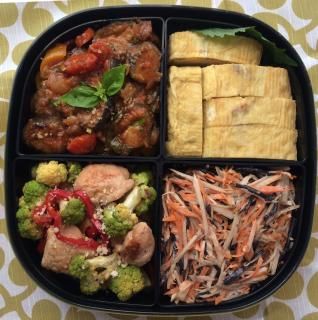 The top tear of the bento box included donabe ratatouille (the recipe will be introduced in the next posting). Roasted chicken tender, romanesco, and baby bell pepper in soy based marinade, dashimaki-tamago (rolled dashi filled omelet), and thinly-sliced burdock root, carrot, with hijiki in creamy sesame sauce.
The bottom tear was roasted Saikyo miso marinated salmon, haricot vert & walnuts in black sesame sauce, and hatcho-miso kabocha.
And, here's the recipe for my burdock root, carrot & hijiki salad in creamy sesame sauce.
Salad of Burdock Root, Carrot, & Hijiki in Creamy Sesame Sauce
Ingredients:
(for the creamy sesame sauce - enough amount to use for a few times)
1/3 cup (80 ml) white sesame paste or tahini
2 1/2 tablespoons raw brown sugar
3 tablespoons rice vinegar
3 tablespoons usukuchi shoyu (light color soy sauce)
2 tablespoons or more kewpie mayonnaise
2 tablespoons grape seed oil
6 oz (180 g) burdock root
4 oz (120 g) carrot
1/2 oz (15 g) hijiki, rehydrated
scant 1/2 teaspoon kombucha (dry kelp powder), optional
shichimi togarashi
Procedure:
In a bowl, whisk together the ingredients for the sesame sauce. Set aside.
Thinly slice the burdock root and carrot by using a slicer. Further cut them into very thin juliennes by a knife.
Boil water in a pot, and add the burdock root. Cook over medium heat for 2 minutes. Add the carrot and continue to cook for 1 more minute. Drain and rinse in cold water. Pat dry.
Boil water again and cook hijiki over medium heat for 5 minutes. Drain and rinse in cold water. Pat dry.
In a large bowl, combine the burdock, carrot, and hijiki. Toss in the kombucha (dry kelp powder). Add just enough amount of the sesame sauce and mix well. Transfer into a serving bowl and sprinkle some shichimi togarashi.
*The remaining sesame sauce can keep in refrigerator for several days. You can use it for different kinds of salads.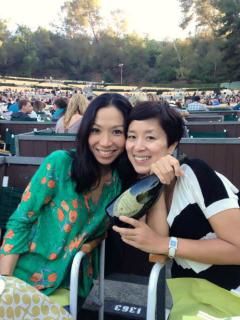 The show was so much fun! It was the final evening for Asami and Steve in LA before moving to Nagoya, Japan for a few years (because of Steve's job). So, I became sentimental at the end. Thank you so much, and good luck to you both, A&S!! I miss you already.