Nihonbashi district is one of the historic commercial towns in Tokyo. You can find shops and restaurants which have been in operation for generations there. In the past recent years, this area has gone through major developments with new shopping complex and hotels.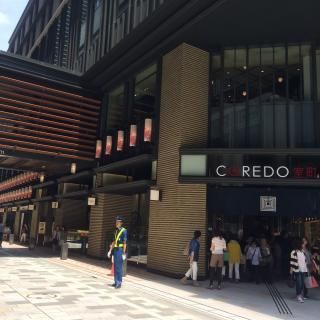 There is Coredo Muromachi which now has 3 buildings with select shops, restaurants, and theaters, and attract many people.
At a newly opened Coredo Muromachi 2, Chef Shinobu Namae of L'Effervescence opened a new restaurant called,
La Bonne Table
, just a few months ago. He told us about this new restaurant
when we visited him for a photoshoot for our donabe cookbook
last November, so I was really excited to visit there for the first time. La Bonne Table is a elegantly casual French restaurant focusing on artisanal local ingredients. They offer prix fixe menus for both lunch and dinner. I met a friend, Yukari-san (Yukari Sakamoto), who is an author of a book called,
Food Sake Tokyo
(great book!), and she also gives tours of food scenes in Tokyo for English-speaking visitors.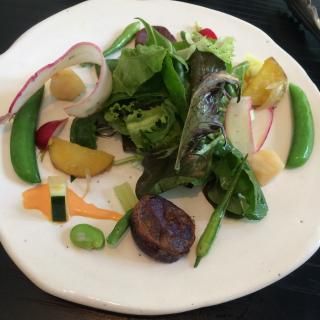 We were first served a shared plate of seasonal vegetables from local farmers. What a great start of the meal. Then, I had fresh bonito appetizer dish. Yukari-san had baby onion soup.
For the main course, I had isaki fish with burdock root sauce. Yukari-san had braised beef in red wine, which was wrapped in pie crust. My dish was really great with Chablis.
Dessert was also fantastic. It was triple fig (fresh, compote, and ice cream) plate with sweet azuki beans. After the dessert, there was a surprise "takoyaki" style warm chocolate cake! We had such a wonderful time. The food, service, and ambience were all superb and it made me feel so welcomed.