Another donabe dish with my
"moshio" preserved lemon
.
This time, I made the meat sauce to enjoy with spaghetti. I always loved my mom's spaghetti meat sauce when I was a child, and this variation I made still reminds me of it. The preserved lemon adds the fantastic depth and hint of lemony touch to the dish.
The process is pretty very similar to my last dish of
chicken in preserved lemon tomato sauce
. The main differences in ingredients is it's ground beef, and good amount of red wine is used.
If you can't get preserved lemon (whether homemade or store-purchased), you can make it without and simply adjust the seasoning with a little more salt.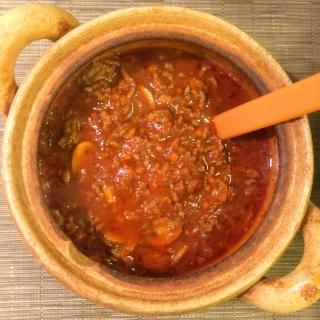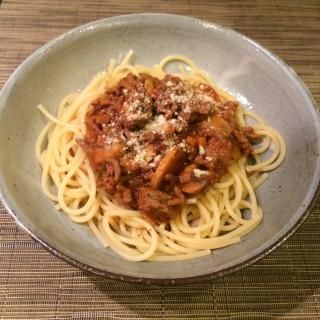 Of course, I made this dish with fantastic
soup & stew donabe, "Miso-shiru" Nabe
. I just love this dish so much.
Tomato Meat Sauce with Preserved Lemon for Spaghetti
(for large-size soup & stew doanbe, "Miso-shiru Nabe")
Ingredients:
3 - 4 servings
1 tablespoons olive oil
1 medium-small onion, minced
1/2 tablespoon fennel seeds, optional
1 clove garlic, thinly-sliced
1/2 medium carrot, cut into small dice
8 oz (240 g) white mushrooms, thinly-sliced
1 pound (450 g) ground beef
1 3/4 cups (400 ml) crushed tomato (or tomato sauce)
1/2 cup (120 ml) red wine
3 pieces preserved lemon, minced plus 1 teaspoon of its syrup (*each piece is 1/8 of medium-size lemon)
1 cube/ packet consommé, optional
1 bay leaf
1 teaspoon dry oregano
a pinch of nutmeg powder
1 teaspoon soy sauce
salt and pepper
spaghetti
Parmesan cheese
Procedure:
In Miso-shiru Nabe, sauté the onion and fennel seeds in 1 tablespoon olive oil over moderate heat until the onion is very soft (about 10 minutes). Add the garlic and carrot, and sauté until aromatic. Add the mushrooms and continue to sauté until they are soft.
Turn up the heat to medium-high and add the beef. Sauté until the meat is cooked through. Add the crushed tomato, red wine, preserved lemon with its syrup, consommé cute (optional), bay leaf, oregano, and nutmeg. Cover. As soon as it starts boiling, turn down the heat to simmer. Simmer for 10 - 15 minutes. Skim as necessary.
Add the soy sauce and a good pinch of black pepper. Adjust the seasoning with a little salt, if necessary. Turn off the heat and let it rest for 10 minutes.
Cook spaghetti according to the package's instructions. Serve into pasta bowls and pour the meat sauce over the spaghetti. Serve immediately. Garnish with grated Parmesan cheese.
You can also find the recipe in
toiro kitchen's website
.
Happy Donabe Life.