I came to Washington D.C. on a weekend 3-day trip last a couple of weeks ago. Motoko, who used to be a colleague of mine at Toshiba-EMI and now lives in D.C., came to meet me at the airport. It was so great to see her again!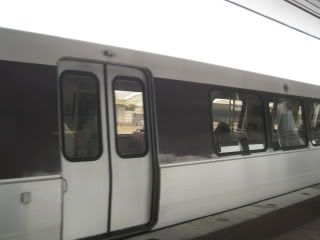 From the airport, we took Metro to the city central. We had a tea break at a local café. Very cute place.
For dinner, we had a reservation at a place called,
Corduroy
. This restaurant is inside of a small in (very old building) in a seemingly very unlikely area for a stylish shop or eatery. But once we walked inside of the building, it was beautifully modern and had the very warm ambience. Really nice looking place!
We met up with two girlfriends of Motoko's and four of us had a really fun dinner together. We learned from our waiter that the executive chef of Corduroy has a Japanese wife and he has visited Japan for culinary research before. So, the menu reflects his such background. I saw some Japanese ingredients and preparations in the descriptions.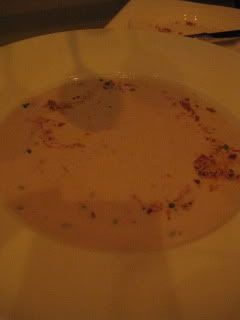 Noriko's Shiso Salad.
I ordered it because I was so intrigued by the name of the dish. Noriko is the name of chef's wife. The dish brought in front of me was not exactly what I expected. It was a rather rustic presentation of basically cabbage salad with a little amount of shiso and wakame seaweed. Very homey dish and the flavor was also homey and good. It went well with
2008 Hermann J. Wiemer, Dry Riesling (Finger Lakes, New York)
. One of the friends ordered gobo (burdock) soup, which had more modern "restaurant" presentation. It had a nice creamy flavor.
My main course was
Broken Arrow Ranch Antelope with Chestnut Puree
. It was served medium-rare. The meat is from Texas. The meat was really good and had a nice juicy flavor. It was almost as lean as buffalo. I enjoyed the dish very much.
The desserts shined! We ordered 4 kinds and shared them. There were tart tatin, pumpkin cheesecake, chocolate tart, and bread pudding. I normally don't eat big amount of dessert, but this time I kept going! Very nice ending.