I had an opportunity to participate in another Italian wine study group gathering one night during my stay in Tokyo. It's a monthly study group hosted by
Etsuko Tsukamoto
, who was my first wine teacher at Academie du Vin back in 1998 and I continued to take her courses for the next few years. She is a highly-respected wine critic/ writer in Japan, and she is always my teacher!
It's a small private setting tasting group takes place at
CarneVino
(formerly Enoteca Norio)'s private room. I wish I could come every month…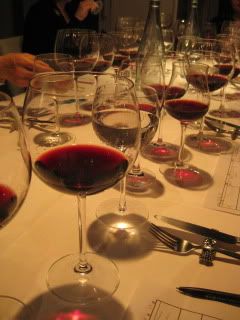 The night's theme was
"Red wines from Veneto"
. After Etsuko's in-depth lecture about the region and wine characteristics, we blind-tasted the following wines.
2008 Monte dall'Ora, Valpolicella Classico Saseti
(12% al.)…Very natural style, organic. Cold maceration, fermented only with wild yeast. Aged in inox for 6-8 months.
2004 L'Arco, Valpolicella Classico Superiore
(14%)…Established by Luca Fedrigo (used to be a winemaker for Quintarelli). Ripasso. Aged in Slovenian oak for 6 months.
2005 Ca'la Bionda, Corvina Veronese
(14%)…Corvina 100%, unique-style. Average 50-year-old vines. Some are over 70 years old. Fermented for 30 days in wild east. Aged for 30 months in 500L tonneau. Only one barrel made. This wine is categorized under IGT Veronese, yet more premium (expensive) than their Amarone.
2003 Monte dall'Ora, Amarone della Valpolicella
(15.5%)…After the grapes are dried in the shade, fermentation process started in February of the following year. Aged for 4 years in French oak, followed by 12 months in bottle. I found this more modern-style Amarone so that the wine can pair better with food compared to classic (old school) style Amarone.
Great lineup! It was kind of a surprise that all four wines were from Valpolicella (Etsuko tricked us!). I nailed that the second wine was ripasso style from 2004 and the last wine was modern-style Amarone. But, I thought the third wine was also Amarone. Wow, it was a unique Corvina 100% wine.
After the tasting and discussion, dinner and more wines were served.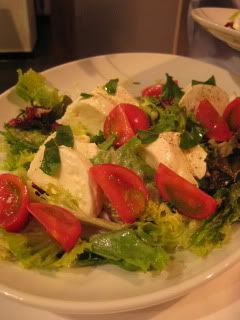 La Jara, Prosecco Spumante Brut
(11.5%)…Grera 100%. Organic (partly biodynamic).
2008 Erbaluna di Oberto Severino e Andrea, Barbera d'Alba Superiore La Rosina
Thank you, Etsuko sensei!