I got together with ex-coworker friends in Akasaka.
They took me to a small Korean izakaya-style restaurant. Akasaka has its own Koreatown, filled with authentic Korean restaurants. It was a Monday night, but the restaurant was very busy all night long.
We enjoyed a variety of small home-style dishes. They were quite elegantly presented, compared to K-town standard in LA. TakGalbi (grilled marinated spicy chicken) was so nice.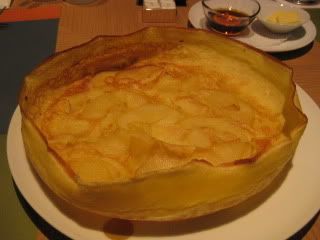 After dinner, we went to newly remodeled Capitol Tokyu Hotel for tea. Their café, "Origami" kept its original name and also some of their classic dishes. German Apple Pancake is one of the classic dishes of Origami. It tasted just like the old time. Lovely.