I had a very special night with a friend at
L'Effervescence
in Nishi-Azabu.
It's a beautiful restaurant, run by
Executive Chef Shinobu Namae
.
This is the super-talented chef, Namae-san. We found out that we had (at least) three different friends in common. What a small world! The cuisine he creates is quite unique of his own, so it's almost not appropriate to put it under a single category (although L'Effervescence normally categorized as French). Namae-san has an extensive background as a chef. In the recent years, he spent many years at
Michel Bras
and most recently at
Fat Duck
together.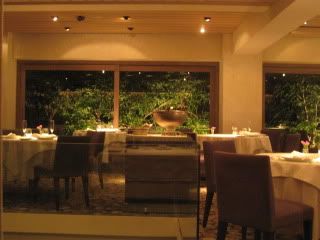 We were very excited to try his tasting course. Tonight's course was titled,
"Un souhait et la lumiere – A prayer and the light"
. Let's begin.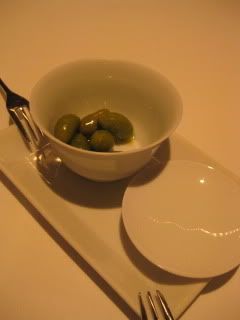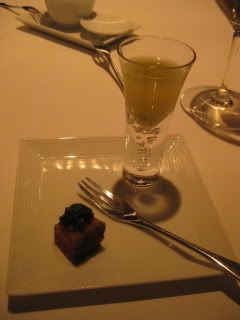 Hose olives
…there were a couple of blood orange flavored kinds.
Caviar and trout, sansho peppercorn & kinome leaves, smoked.
A glass cover over the fish was lifted at the table and the beautiful smoke aroma billowed in the air. Great start.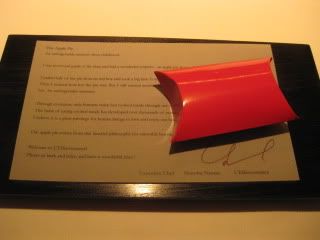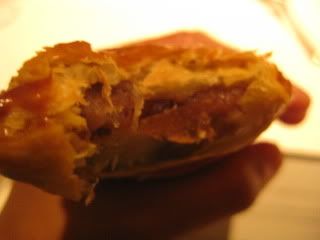 My nostalgia -
cinnamon flavor, veal ragout & foie gras. What a shockingly lovely presentation! The paper under the red package explains about Chef's childhood memory of his first apple pie experience at a "fast food" restaurant. Inside of the package was a piping hot apple pie, which we were suggested to eat in three bites. I loved his playful mind, and I loved the taste of it even better.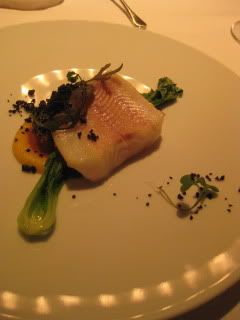 Bitter flavor from spring time – Bamboo shoot sauté, bitter fuki bud & broccoli puree, firefly squid, prawn caramel
Flavor of greens – Slow-cooked Ainame fish, rutabaga puree & vinaigrette viande, black olive, mustard leaves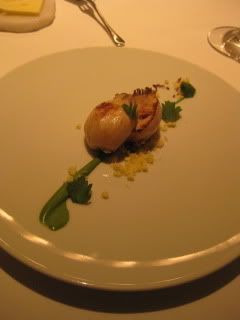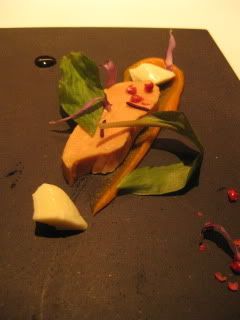 Whole-cooked Japanese turnip, parsley oil emulsion, dried Spanish ham, brioche
Foie gras cooked naturally & katakuri leaves, pink grapefruit chutney and pink pepper, olive oil flavored milk jelly
Right & left – Taiwanese tea...forgot to take a picture. Half cold and half hot version of tea in the same cup! I had my "fat duck" moment.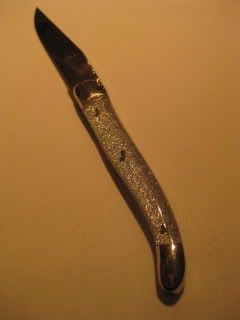 Jump into the spring time – Iwate beef from the mountain sirloin roast and its juice, parsnip puree and spring cabbage, leaves and stem of wasabi...I liked that I could choose a knife from different desings presented in front of me. The meat was perfectly cooked and its marbled fat was packed with almost extracted umami flavors.



Cheese selection and vegetables selection...salad after cheese course totally worked. It was so refreshing and sharpened my palate again.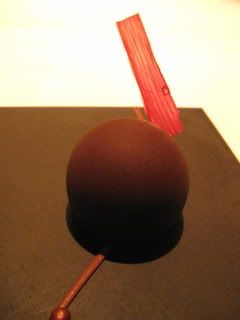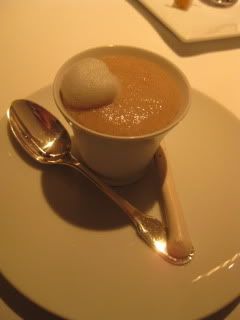 Desire of destruction – Chocolate shell with rhubarb, yoghurt ice cream, coriander, dense chocolate streusel
Air-light mont-blanc...one of the best mont-blancs I've ever tasted.



Wines…2007 Les Arums de Lagrange (Bordeaux)…Chateau Lagrange's rare white (since the 1996 vintage). 60% Sauvignon Blanc, 30% Semillon, 10% Muscadelle. Very aromatic with white flower, oranige peel, and herbs. Round body, with extremely ripe fruit. Categorized as sec, but hint of RS.
2005 Westwood, Pinot Noir (Sonoma Valley)…I brought this wine from California. Rich spice, berry and smoke in the nose. Dense yet smooth texture.



Our dinner lasted 4.5 hours – the dreamy time which I wished never end! I loved every detail and every moment of the dinner. Namae-san's dishes were so natural, artistic, and progressive, and they are so organically personal. It made me feel like I was interacting with each dish by using all 5+1 senses of me.

Honestly, I can't wait to come back to experience his dishes again next time.