Tonight was a dinner at one of our friends house. Among the many wonderful dishes we had, my favorite was the tea-smoked chicken with the wild arugula salad. We tasted some interesting wines tonight.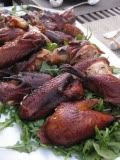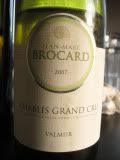 2007 Jean-Marc Brocard, Chablis Grand Cru, Valmur.
Pure minerality with the great volume. Very terroir-oriented. Brocard don't use oak at all in the wine making, so the wine was packed with the young and pure richness.
2004 Domaine de la Grange des Peres, Vin de Pays de l'Herault.
Someone was calling their red as "Romanee-Conti" of Languedoc. I learned this is a cult white from Languedoc. This white is made of 80% Rousanne, 10% Chardonnay, and 10% Marsanne. Extremely limited production. I read in one of the wine publications this wine was compared to Coche-Dury's. In terms of the richness, I can understand the remark, but this wine's acidity is much milder. The palate was so round and almost chewy. Very special wine!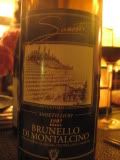 2002 Domaine A.-F. Gros, Pommard, 1er Cru, "Les Pezerolles".
This was my "after-hangover" selection, as Anne-Francoise (Michel's sister) and her husband Francois makes such delicate wines even from the big Pommard vineyard! The wine had the berry and animal fur on the nose. The palate had the slight density like liver pate. It is Pommard, but definitely the style was more feminin. Les Pezerolles is located right next to Clos des Epenots on the western facing hill-side.
2006 Giornata, Nebbiolo, Luna Matta Vineyard, Paso Robles.
Very interesting wine. The fruitiness was really "California", but it did have the texture of the tannins from Nebbiolo. Nicely balanced.
1997 Pertimali - Livio Sasetti, Brunello di Montalcino.
One of the top producers of Brunello from the great vintage. His wines are all organic. Elegant nose of dry fruits, violet, and dust. The tannins were still kind of young and hard. I have his 2001 at home, so I should age it for several more years at least.