I held my breath almost too long for this, but finally (yes, FINALLY), my dear friends Adria and Claudio's
Barbrix
is officially open!!
It's like a cute little house off Hyperion Ave. I like the open kitchen and also the u-shape bar counter.
The restaurant got completely full very quickly and the whole ambience was so exciting. The wine and beer list include many reasonably-priced boutique producers'.
The food was really amazing.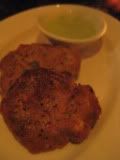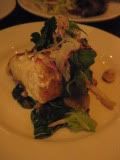 Most items are under $10! They are Mediterranean-style small dishes and beautifully prepared.
These are only some of the dishes we had...many dishes were so quickly gone that I couldn't take the pictures.
Barbrix is becoming my new hangout, for sure!