Jason and I went up to San Francisco/ Napa over the weekend. The trip started out as a nightmare. The flight from LAX was delayed by 3 hours (we were confined to the plane meanwhile, and I got a little drunk because there was nothing else to do besides drinking the cheap wines they serve), then after finally arriving to SFO and picked up a rent-a-car, we got a flat tire and had to call the roadside assistance!
Our original reservation with
Nopa
was 9.30pm. But when we finally got to the restaurant, it was almost 1am and only a couple of minutes before the last order!
Luckily, we booked this really cool place which is open until late, and at this very late night, the restaurant was still packed with customers. We saw many main disihes were still coming out to the tables.
We were so exhausted, so we just wanted to quickly eat and go to the hotel (we still needed to get the tire changed by the service). So, Jason had the burger, and I had their homemade tagliatelle with fennel sausage, etc., and the sauteed greens with anchovy and breadcrumbs. Both were really delicious.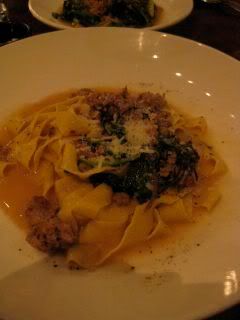 I'd delinitely want to come back to Nopa for the full tasting experience next time. This place is really nice.
Next morning, we drove up to Napa to meet up with some friends (both locals and visitors). Before leaving town, we stopped by at
Tartine Bakery
for a quick breakfast with their cafe-au-lait and pastries. Despite the rainy weather the cafe was so packed and there was even a line to the outside.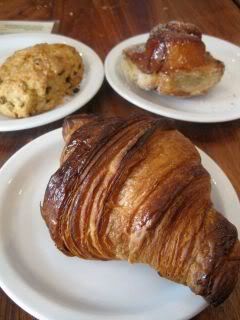 Their pastries are definitely worth the wait. San Francisco has great bakeries which LA is still missing.