We drove back from Napa to San Francisco later in the morning. Before going back to LA in the afternoon, we had a reservation at
Slanted Door
at the Ferry Building.
This is an extremely popular restaurant. Before noon, its spacious dining room was already packed. The menu is modern Vietnamese and it's really huge. There were so many dishes I wanted to try, but I had to make decisions and picked a few dishes for our lunch.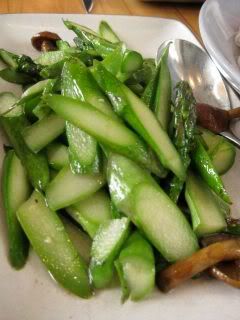 Chilled New Zealand Greenlip Mussels
were steamed in white wine and lemongrass, and served with roasted chili aioli. This was my favorite. We also had
Grilled Lemongrass P
ork over rice noodles with imperial rolls,
Caramelized Catfish Claypot
, and
Zuckerman Farm Asparagus
with nameko mushrooms. Everything was delicious. All the seafood are delivered to the restaurant every morning, so the catfish was really fresh taste, too.
After the lunch, we headed to SFO.