Happy donabe dinner with Kyoto artisan friends
November 9 (Sat)
It was going to be a very exciting day in Kyoto.
In the morning, Junya-san, the 8th generation of
Honda Miso
, family-run Saikyo Miso producer, came to pick us up at the hotel. He drove us all the way to Tanba region of Kyoto, which is about 2-hour north from Kyoto City. We visited Honda Miso's production house there.
At Honda Miso, they have been making traditional Saikyo Miso (Kyoto-style sweet white miso) for almost 200 years. While maintaining its style and quality, now they use very modern facility for production to ensure the consistency.
We were given a full tour of the production. It was so impressive! The whole building smelled really delicious with the aroma of fresh miso.
After lunch at a local restaurant, we drove back to the city and visited Honda Miso's main house/ shop right by Kyoto Imperial Palace. Honda Miso has been serving miso to Imperial family.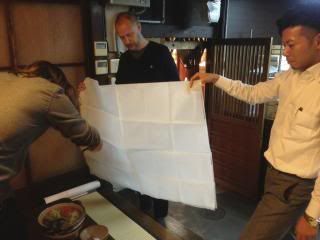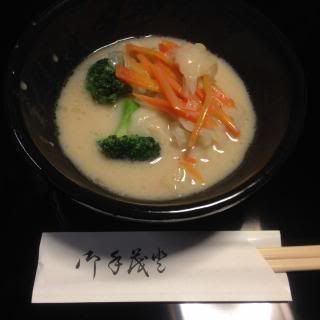 We did photoshoot of their donabe dish. They made "Saikyo Nabe" hot pot, which is Saikyo miso-based broth with various ingredients. After the shooting, we got to taste the dish and it was so delicious. What a great valuable time we spent with Honda Miso people. Thank you so much, Junya-san!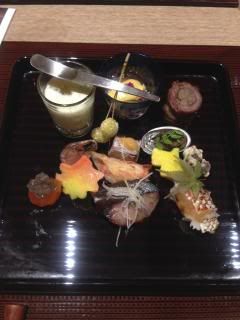 It was already evening and we had a dinner plan with local friends, Taka-san, Kosuga-san, and Tsuji-san. They are all young generation of Kyoto's artisan craft houses (copper tea caddy, bamboo craft, and wire craft). They invited us to a very nice local-style restaurant.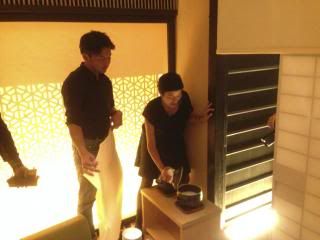 The fun dinner ended with more shooting! Their rice was cooked in donabe, so we got everybody's help and took some great shots. The donabe rice was so good.
Thank you so much, Taka-san, Kosuga-san, and Tsuji-san! Happy Kyoto-style donabe life.