Donabe photoshoot at L'Effervescence
November 10 (Sun)
We took Shinkansen (bullet train) back to Tokyo and arrived in the afternoon.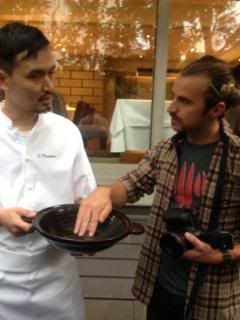 Later in the afternoon, we visited Chef Namae at
L'Effervescence
to shoot his donabe dish. Kyle and Namae-san used to work together both at Micel Bras in Hokkaido and Fat Duck in England. Between Namae-san and myself, we also have a few mutual friends. Very small world.
The dinner I had at L'Effervescence a couple of years ago
was one of the most memorable meals in past years.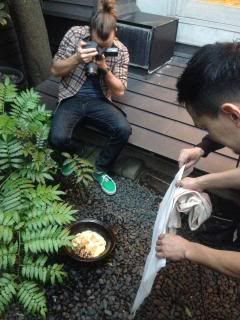 With
Kyoto-style classic donabe
, which Namae-san specifically requested he wanted to use, he made a beautiful dish with ama-dai fish, mushrooms, and tons of yuzu! We were all very excited to shoot this dish. Afterwards, we got to eat it and it was super tasty.
In the evening, we walked from L'Effervescence to a restaurant right by the high school and university I graduated from. Akiko, who is one of my best friends from high school joined us and we had really fun Okinawan Chinese dinner together.
Among 4 of us, we ordered countless number of dishes and also opened 6 bottles of wine on top of 2 shots of awamori (Okinawa spirit) each!
Happy time with happy donabe friends.