Quick and easy meal with three cute donabe pots.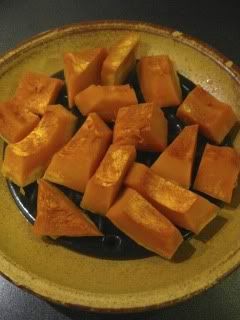 With
donabe steam-roaster, "Tochinsai"
, I cut kabocha into cubes and simply steam-roasted them until tender (about 4 minutes with 700-W microwave). Then, I added a small bunch of chrysanthemum leaves and microwaved again for another 1 minute. In this way, all the nutrients are kept inside of each vegetable. Also,
I like kabocha microwaved in Tochisai so much better than when it is boiled!
By steam-roasting in
Tochinsai
, kabocha tastes more concentrated in flavor and the texture becomes nicely dense, instead of mushy.
With mini-size
classic-style donabe, "Hakeme"
, I made simple seasoned ground chicken (
"tori soboro"
), and with
mini-size classic-style donabe, "Rikyu-Tokusa"
, I made yuzu-kosho marinated mixed mushrooms. To make this, I sautéed about 12 oz of mixed mushrooms (shimeji, shiitake, and enoki) in 2T olive oil over medium heat, deglazed with a tablespoon of sake and cooked for additional 2-3 minutes. Once I turned off the heat, I added the marinade mixture (3T olive oil, 1 tsp
shio-koji
, and 2 tsp yuzu-kosho) to the mushrooms.
These two mini-donabe dishes were served as condiments for kabocha and chrysanthemum leaves. What a tasty balanced donabe meal, and so easy to prepare. They are all great hot or at room temperature.
Happy donabe life.