Leftover broth from the previous evening's hot pot dinner is always so precious, because the broth has especially the rich flavor which has been infused with all the ingredients cooked in it. It's "golden" broth.
I had the good amount of the leftover miso broth from last night's hot pot, so I replenished it a little more with the reserved broth and a little extra white miso. The broth was put in the donabe again with kabocha (pumpkin) slices and shiitake slices (saved after making the dashi the previous day). Once the kabocha was almost cooked through, I added the udon noodles and also the whisked eggs right before the udon was cooked.
As soon as the eggs were drizzled in, I turned off the heat and covered the donabe with the lid. I waited for maybe 1.5 minutes for the soft egg stage. I love my donabe.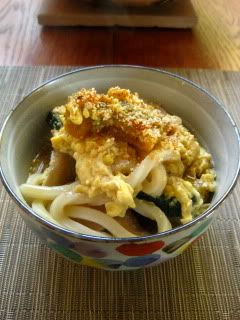 Extremely delightful Donabe Nikomi Udon was ready in just a short time. Really great.
Gochisosama deshita.