Osechi Dinner at Home (Photo by Emiko)
Happy New Year! I wish everybody a wonderful year of 2017!
I had such a busy final month of last year. So, I didn't really get to prepare anything for Christmas including even a gift for Jason, my husband! On Christmas eve, I could finally start to relax and actually enjoy the holiday season. We were invited to our friends' home for Christmas dinner. Peggye made rotisserie whole ducks!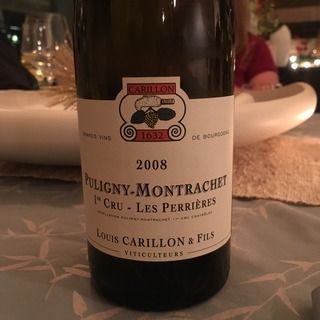 Kabocha soup by Jody.
The duck was so delicious!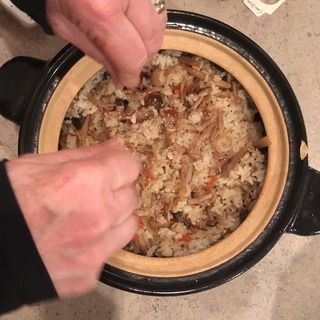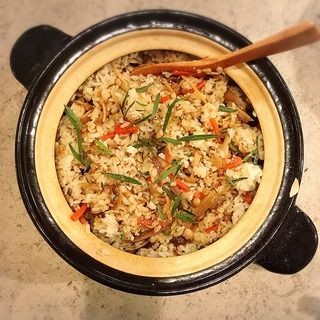 I made
mixed mushroom rice
with
double-lid donabe rice cooker, "Kamado-san"
. Then, Peggye sprinkled a generous amount of shaved white truffles and folded into my donabe rice dish. Such a decadent holiday version rice! It was a really nice fun dinner party.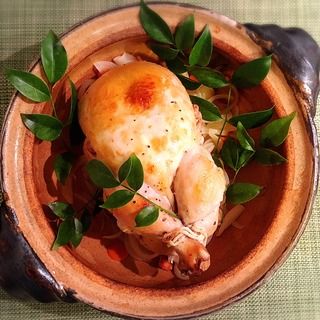 On the very Christmas Day, Jason and I enjoyed very relaxed home dinner. I
roasted chicken
in my
classic-style donabe, "Hakeme"
, and it came out really fantastic. This is a recipe I contributed to
Gwyneth Paltrow's Goop
.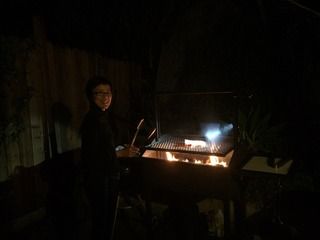 What's great about living in LA is we can enjoy outdoor BBQ cooking in the middle of the winter. Another evening, we grilled 30-day dry-aged
T-bone steak
in our Santa Maria BBQ Grill.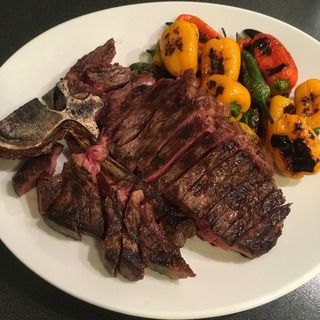 It was sooo good.
Then, of course, we did a lot of donabe hot pot dishes during the holidays. With black cod and oysters, I made
sake-kasu nabe
(sake lees hot pot). On New Year's Eve, I made
kamo nabe
(duck hot pot), and ended the meal with the shime (final) course of soba (I used black bean soba, made from buck wheat and black beans from Tanba, Kyoto), cooked in the remaining broth. Eating soba on New Year's Eve is a Japanese tradition and we call it
"Toshikoshi Soba"
. We eat soba to pray for good luck and longevity. For kamo nabe, I used my
Kyoto-style shallow donabe, "Kyoto Ame-yu"
.
On New Year Day, I spent busy time making
"Osechi Ryori"
, traditional Japanese New Year dishes. Among many dishes, I made a couple of dishes in donabe. Chikuzen-ni is a root vegetable stew, and I made it in my classic-style donabe. Then, I also made roasted beef in my
soup & stew donabe, "Miso-shiru Nabe"
. I should write the recipe for this dish sometime in this blog.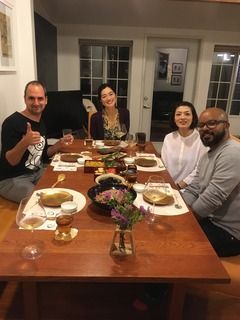 The following evening, we invited a few friends over for our big Osechi Ryori dinner to celebrate the new year.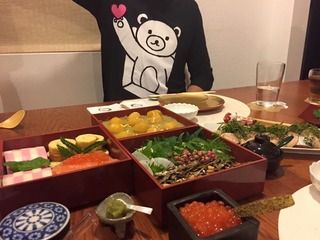 I couldn't take any good photos, but luckily Chago and Emiko sent me some photos they took.
Here's the menu.
Hoshigaki, stuffed with moshio-butter and roasted pine nuts
Kurikinton (puree of satsuma sweet potato, topped with sweet chestnuts
Kamaboko (fish cake) with homemade ponzu and wasabi
Datemaki (rolled omelet with fish cake)
Smoked salmon with ikura (salmon roe) and yuzu yogurt topping
Tazukuri (roasted dried fish with walnuts)
Karasumi Daikon (daikon radish slices, stuffed with bottarga and shiso)
Buri (Japanese winter yellowtail) carpaccio with ao-nori seaweed sauce
Kuromame-ni (premium black beans from Tanba, Kyoto, in sweet broth)
Shichi-fuku Namasu (a variety of root vegetables, sautéed and tossed in walnuts-vinegar sauce)
Sukiyaki of beef and pork belly
Udon "shime"
Hew, I did make many dishes! I go crazy every new year.
Then, Yuko, who is a professional pattisiere made a special dessert for everyone. It was matcha "chou cream" cream puffs. It was so delicious.
I had such a wonderful New Year celebration with friends and feel all the good luck for 2017!
Happy donabe life.