Last weekent, at my friends beautiful shop,
Tortoise General Store
in Venice, there was a charity sales event to support the Kumamoto earthquake recovery efforts. I had a pleasure to be part of the event along with other local vendors and artisans to sell products to raise fund for Kumamoto relief.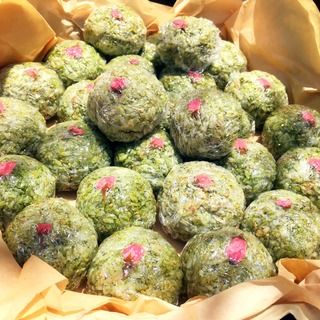 I made matcha onigiri (green tea rice balls) topped with pickled cherry blossom flowers (recipe from my
DONABE Cookbook
). This is the same onigiri as I made at the Sakura Matsuri (cherry blossom festival) in DC last month and was very popular. So, I wanted LA people to taste these rice balls, too. I started prepping a night before and woke up very early in the morning to make 110 onigiri! Of course, all were made in my
double-lid donabe rice cooker, "Kamado-san"!
Rice made in Kamado-san taste just so special and it makes really delicious onigiri. I used nice Uji matcha (green tea powder) from Kyoto and plum-flavored "Amabito no moshio" seaweed salt from Hiroshima, and Sakura no Shiozuke (pickled cherry blossoms) from Okayama, and put tons of love from me!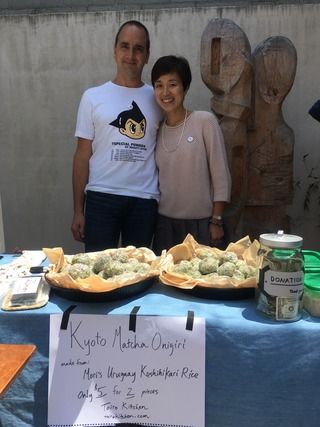 My husband, Jason, who was finally back from work travels joined me to help the event.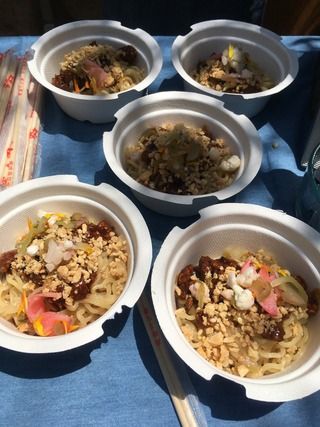 There were also Chef Kuniko's dan dan mein, Chef Shiho's matcha ice cream bonbons, Chef Yuko's graham crackers, and arts and crafts from many other artists/ vendors. Kuniko's dan dan mein was so delicious!
The event lasted two days (I joined Sunday), and about $6,500 was raised! All the proceeds will be donated to Kumamoto earthquake relief fund. I had a great time and am thankful to everybody who came to support Kumamoto!
After working full day (and spending all afternoon under the sun at the shop's patio), I was pretty tired and also hungry for a nice dinner. We had a reservation at
Paley
, a brand new stylish restaurant in Hollywood. We started with seafood plateau, which made a wonderful start of the night.
Butter lettuce and English peas salad. Beef tartare (seasoned with miso and gochujang). Both were so fresh and tasty. I loved the flavor combination of tartare and grapefruit.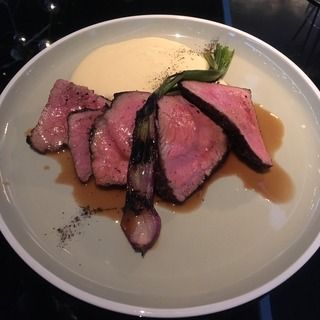 Since my body needed a lot of energy, for my main course, I had dry-aged Manhattan steak. It was perfectly cooked to rare and the flavor was so rich in umami and delicious! The winner dish of the night.
Dessert was dark chocolate cremeux tart with yuzu gelee and blood orange compote. Very nice.
I really enjoyed the dinner and look forward to coming back again. I would love to try their brunch next time, too.
It was a wonderful day and I felt so fulfilled!
Happy donabe life.