I had another fantastic night at
Otium
in Downtown LA!
I had friends visiting LA from Japan, and it was their first time to come to LA, so I really wanted them to experience Otium.
Chef Tim created a special tasting course menu including multiple donabe dishes for us!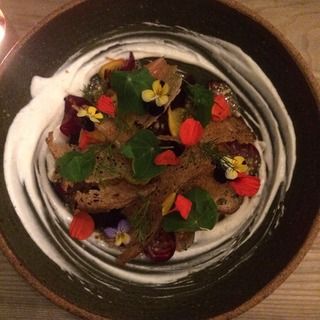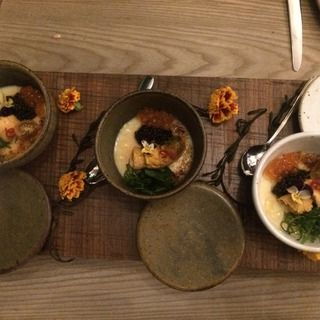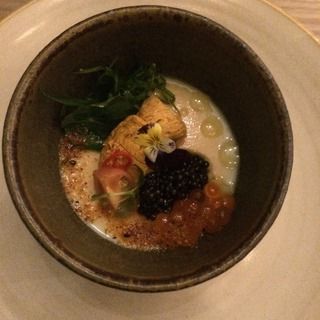 Beautiful cured salmon dish, followed by chawanmushi, topped with uni, caviar, and ikura. I loved the nuance of vinegar in the sauce for chawanmushi. So unique and delicate.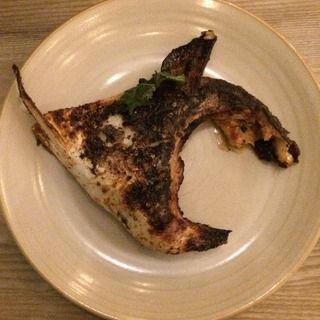 First donabe course was buri kama (collard of grown-up yellowtail), grilled, then smoked in
donabe smoker, Ibushi Gin
. The skin was perfectly crisp, and the meat was so delicate and juicy with a nice oily texture. With every bite, the aroma of smoke delighted my palate. Beautiful.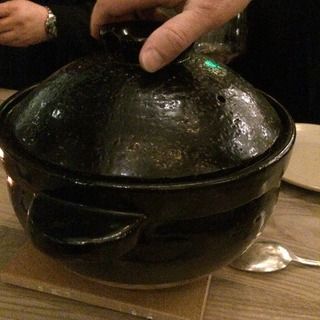 The rice course was made with
double-lid donabe rice cooker, "Kamado-san"
. It was black cod with very light potato sauce and charred spring onion, dusted seaweed, etc.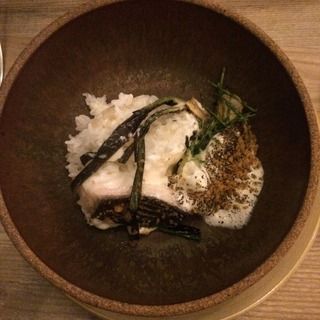 The rice was
Mori-san's short grain rice from Uruguay
. What a unique combination of flavors and it was so delicious. My friends are from Niigata, the premium rice growing region of Japan, so they are true rice snobs. And, they were raving about how the rice was cooked perfectly in Kamado-san by Chef!
Here comes
donabe steamer, "Mushi Nabe"!
Chef Tim slowly steam-roasted a whole chicken for almost 2 hours in the donabe. There was generous amount of shaved black truffles stuffed under the thin skin. Under the chicken was a variety of California vegetables including colorful carrots, potatoes, savoy cabbage, etc. with the jus.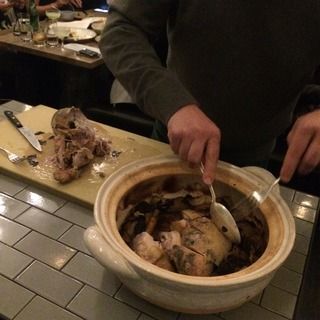 The chicken was carved so skillfully tableside by Christian. The dish was outstanding. The chicken was so tender and packed with umami flavors. The aroma of the truffles were so elegant. Wow, I was really happy.
Dessert was donabe s'more, made in
donabe smoker, Ibushi Gin. So pretty.
Because I just returned from Australia, I ordered 2011 de iuliis, Shiraz (Hunter Valey, NSW) for the main course. It was not a overpowering big red but rather elegant and worked wonderfully with the chicken.
My friends were really blown away by the whole dinner. I want to thank chef Tim and the team for the amazing night!
Happy donabe life.