This is a quick donabe dish, looks pretty, and taste delicious. I sometimes make this dish for lunch to eat the whole thing myself, too. The asparagus stems are steam-roasted in
tagine-style donabe, "Fukkura-san"
for a short time. They become nicely crisp tender. The flavor of the preserved lemon and Parmesan cheese add the nice nuance. If you don't have
preserved lemon
, you can substitute with some shredded lemon rind and a sprinkle of salt.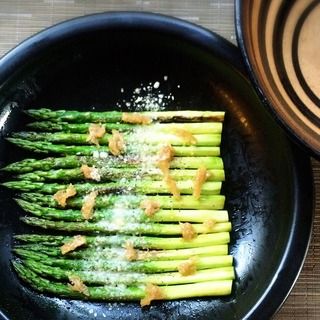 Here's the recipe.
Roasted Asparagus with Preserved Lemon
(Tagine-style donabe, "Fukkura-san")
Ingredients:
(2-3 as part of a multi-course meal)
10 oz asparagus, hard bottom trimmed
1 tablespoon olive oil
1 piece
preserved lemon
, minced (*each piece is 1/8 of medium-size lemon)
Parmigiano Reggiano, grated
Freshly ground black pepper
Procedure:
Peel about 1/3 end of each asparagus by using a peeler.
Place the asparagus in the skillet of "Fukkura-san" and add the olive oil. Toss the asparagus by hand so they are evenly coated with the oil, and arrange them in a single layer.
Cover with lid and set over medium heat. Cook for about 7 minutes or until the asparagus is crisp tender. Meanwhile, turn the asparagus 1-2 times.
Remove from the heat and uncover at the table. Garnish the asparagus with the preserved lemon and some Parmigiano Reggiano plus some pepper.
You can also find the recipe on
toiro kitchen's website
.
Happy donabe life.