Happy octopus...just boiled
I've been ordering wild caught whole octopus (from Spain) from
Kai Gourmet
, along with other fresh seafood frequently this summer. Each weighs about 3.5 - 4 pounds and is very high quality. It's already cleaned and pre-tenderized, so I just need to rinse it throughly before start cooking it.
To prepare an octopus, I do a classic Japanese way. I think in Europe, it's typical to start with a fresh octopus in cold water, then bring to a simmer and simmer for almost one hour or longer. In a typical Japanese way, we normally boil water first, then add the octopus and simmer for a short time, about 20 minutes or so. We enjoy the bouncy texture of octopus. Only when we want to make very soft and tender braised octopus, we cook it for more than 1 hours (sometimes up to 3 hours).
So, here's how I prepare an octopus.
First, rinse the octopus, then boil water in a large pot. Once the water is boiling, you can add a large bag of hojicha tea leaves to the water. It's totally optional, but I learned from my friend and great sushi chef, Mori-san (Morihiro Onodera), that by infusing the cooking water with hojicha, this will help the octopus resulting in nicer color and also makes the flavor better. No salt is added, but just some splashes of sake. According to Mori-san, adding salt would make the octopus meat tougher, so it's not necessary. Slowly, submerge the octopus from the legs. Once half of the legs are in the water, wait for about 10 seconds and lift again, so the legs are nicely curled. Then, submerge the octopus from the legs again and this time all the way to the head.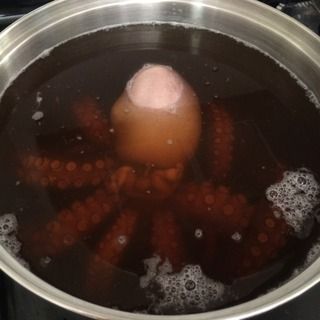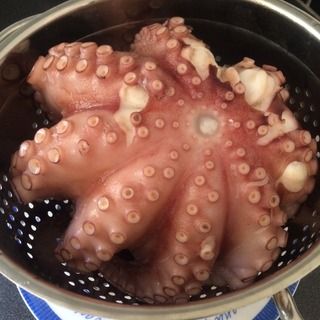 Wait until the water is brought to a boil again, then reduced the heat to gentle simmer. Continue to simmer for 20 - 30 minutes (depending on the size of the octopus). Make sure the octopus is completely submerged in the water. Turn the octopus over once for more even cooking. After 20 minutes, by using a wooden skewer, check the doneness. If a skewer can pierce the thick part of a leg smoothly, it's ready. Turn off the heat and let it rest in the cooking water for 15 - 30 minutes, then transfer to a colander. Slice the octopus anyway you like for your cooking purposes. I like slicing a few legs for serving cold as sashimi, then the rest for other dishes. The boiled octopus can keep for a few days in a tightly-sealed container in the refrigerator.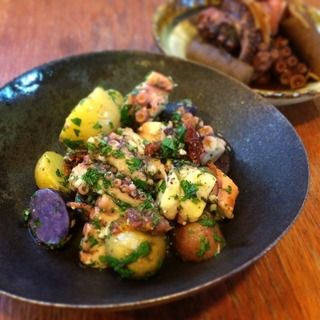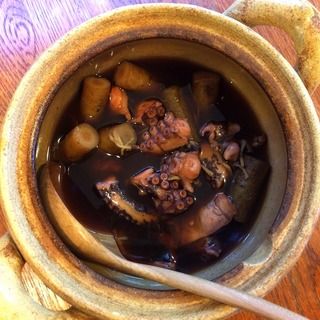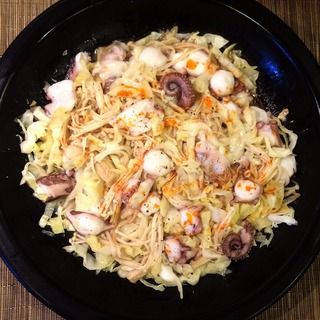 Here are some dishes I made from the same octopus. I made classic octopus and potato salad as an appetizer. With my
soup & stew donabe, "Miso-shiru Nabe"
, I braised the octopus legs (cut in chunks) further in simple dashi-soy-sake-miring combination with gobo (burdock root) and ginger. Then, with my
tagline-style donabe, "Fukkura-san"
, I sliced the rest of the octopus rather thinly and made steam-fry octopus, cabbage, and enoki mushrooms in soy-butter. All came out so delicious!
Last month, on 4th of July, we hosted a BBQ dinner at home by inviting some friends. Jason and I were so busy prepping and cooking, so we didn't get to take any photos of all the dishes we prepared...
Except, for the Tako Meshi (octopus rice)! This time, to feed our large group, I cooked it in my special giant size
double-lid donabe rice cooker, "Kamado-san"!
This Kamado-san cooks up to 10 rice cups, and it's really huge and gorgeous! It's, of course, handmade by Iga-yaki craftsmen at Nagatani-en in Iga, Japan. So, for this dish, I used an entire octopus to cook with the rice. It came out so delicious, and I was so happy that everybody enjoyed the dish so much! I will write the recipe (to cook in 3 rice-cup size Kamado-san) at the end of this post.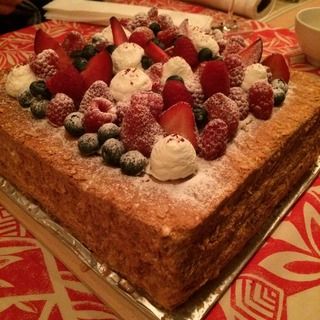 Dessert was made by Yuko, who is a specially talented pastry chef. She made mille-feuille. We all had such a blast!
So, here's my octopus rice recipe.
Tako Meshi (octopus rice)
(3 rice-cup size donabe rice cooker, "Kamado-san)
Ingredients:
(4 - 5 servings)
2 rice-cups (360 ml) short grain rice, rinsed and drained
1 1/3 cups (320 ml) dashi
2 tablespoons sake
2 tablespoons usukuchi shoyu (light-color soy sauce; can substitute with regular soy sauce)
1 rectangular abura-age (friend tofu pouch), blanched and cut into thin slices
1 knob ginger, finely julienned (about 2 tablespoons)
6 - 7 oz (180 - 200 g) boiled octopus, cut into bite-size pieces
Procedure:
In Kamado-san, combine the rice with the dashi, sake, and usukuchi shoyu. Let the rice soak for 20 minutes.
Spread the abura-age over the rice in an even layer, followed by the ginger and octopus. Cover with both lids and set over medium-high heat. Cook for 13-15 minutes. (Or wait for a couple of minutes after the steam starts puffing from the outer lid's hole.)
Turn off the heat an let it rest, undisturbed, for 20 minutes.
Uncover and fluff the contents gently. Serve into individual bowls.
So easy and so delicious.
Happy donabe life.